Siapa nama anda? Nama saya Indonesia!
What's your name? My name is Indonesia!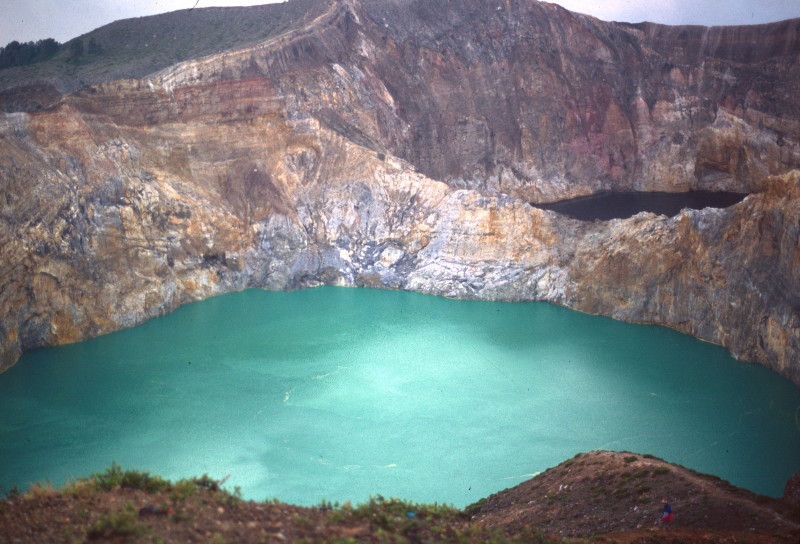 This was our first trip togheter, me and Valeria. We choose Indonesia probably because Bali was a good choice for a newly formed couple. Then we discovered Java, Lombok, Flores, and at the end the only place we overlooked was actually Bali, with the bustling with tourists (actually ugly, we thought) Kuta Beach.
So we travelled from Jakarta to Yogyakarta, then east to Bali (to Lovina in the quieter North) then by plane to Flores, a beautiful, lush island with Catholic traditions due to the Portuguese colonization, then by boat we got back to see Komodo and Rinca, home of  the terrifyng Komodo Dragons and back to Labuanbajo, to Lombok and back to Bali to catch the plane which took us to Jakarta for the return flight.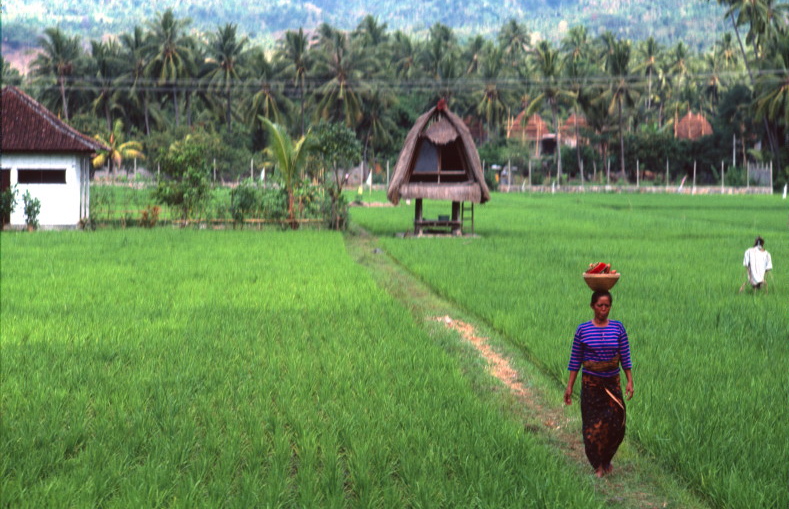 Indonesia is a fascinating big country, divided into hundreds of islands and islets, with many different dialects and religions. The country is mostly muslim, but Bali is Hindu and Flores Catholic. Java is incredibly crowded (100 million people packed in an island big as a quarter of Italy) , in Flores you can drive for miles seeing only palms and absolutely no one around. It is a country suspended between the indian subcontinent and the Chinese economic influence from the North. In 2001 when we were there the first big economic crisis had struck, people were desperately trying to make ends meet, but we found deep humanity and dignity in all of them.
It is a country full of startling differences, both geographical and cultural, in just one month you can only scratch the surface of an entire melting pot of languages , habits, religions, but it's definitely a place to see, and maybe return. So Long, Indonesia.
29 july 2001 – Turin – Paris – Singapore – Jakarta – flight Air France
30 july 2001 – Java – Jakarta – arrive at 3.40pm  – around the city
31 july 2001 – from Jakarta to Yogyakarta by train
1 august 2001 – Yogyakarta – around the city – Borobudur Temple
2 august 2001 – from Yogyakarta to Mount Bromo by bus (12 hours)
3 august 2001 – trekking on volcanos – mount Bromo – sand sea – Mount Betok – by bus to Banyuwangi and Ketapang – to Bali by boat – to Lovina (north coast) by bus
4 august 2001 – around Lovina by motorbike
5 august 2001 – from Lovina to Kuta (south coast) by bus
6 august 2001 – from Kuta – Denpasar to Maumere, Flores by plane – Merpati Airlines – around the city
7 august 2001 – from Maumere to south coast of Flores and then to Moni by car – around Moni village
8 august 2001 – trekking on Kelimutu volcano – from Moni to Riung (north coast of Flores) by car
9 august 2001 – around Riung – seventeen islands by boat – back to Riung
10 august 2001 – from Riung to Labuanbajo (west coast) by a very little boat – 12 hours
11 august 2001 – around Labuanbajo
12 august 2001 – to Seraya island by boat – back to Labuanbajo
13 – 16 august 2001 – from Labuanbajo, Flores to Lombok by boat – stop at Komodo and Rinca islands to see the Komodo dragons
17 august 2001 – arrive in Labuhan Lombok – go to Bangsal by bus (from east coast to west coast of Lombok)  – to Gili Island by boat
18 – 24 august 2001 – relax in Gili Meno island
25 august 2001 – from Gili Meno to Kuta by boat
26 august 2001 – from Kuta to Ubud by bus – around Ubud and back
27 august 2001 – from Denpasar to Jakarta by Garuda Airlines – Air France flight from Jakarta to Paris
28 august 2001 – from Paris to Turin with Air France