One step away from the rainbow
Casa Aguaplano
Casa Aguaplano
A balcony over the ocean, in the midst of nature
After spending years travelling and dreaming of living in a different place, we landed in Faial, in the Azores islands, and here we transformed a country cottage that had been abandoned for years into an oasis of peace away from the noise of the city, close to Faial's most famous attractions (the volcano of Capelinhos and the natural rock pools of Varadouro). Here we welcome our guests in two separate cottages, equipped with all comforts, to fully enjoy nature and tranquillity.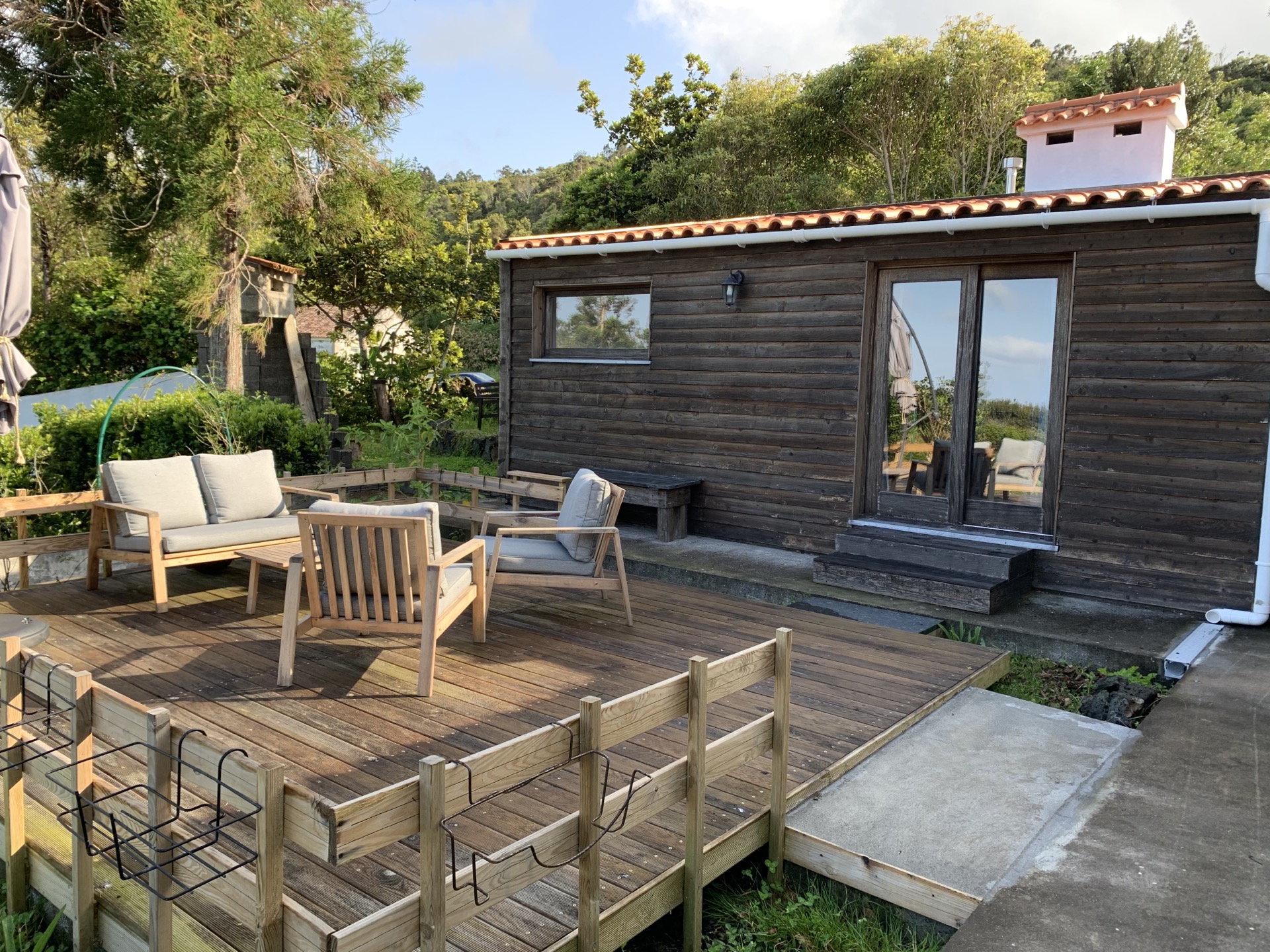 35 Mq – Bagno Privato
A studio apartment obtained by renovating an annexe with an old oven still in working order. Private bathroom, double bed + 2-seater sofa bed. Perfect for a couple with children or a small group of friends.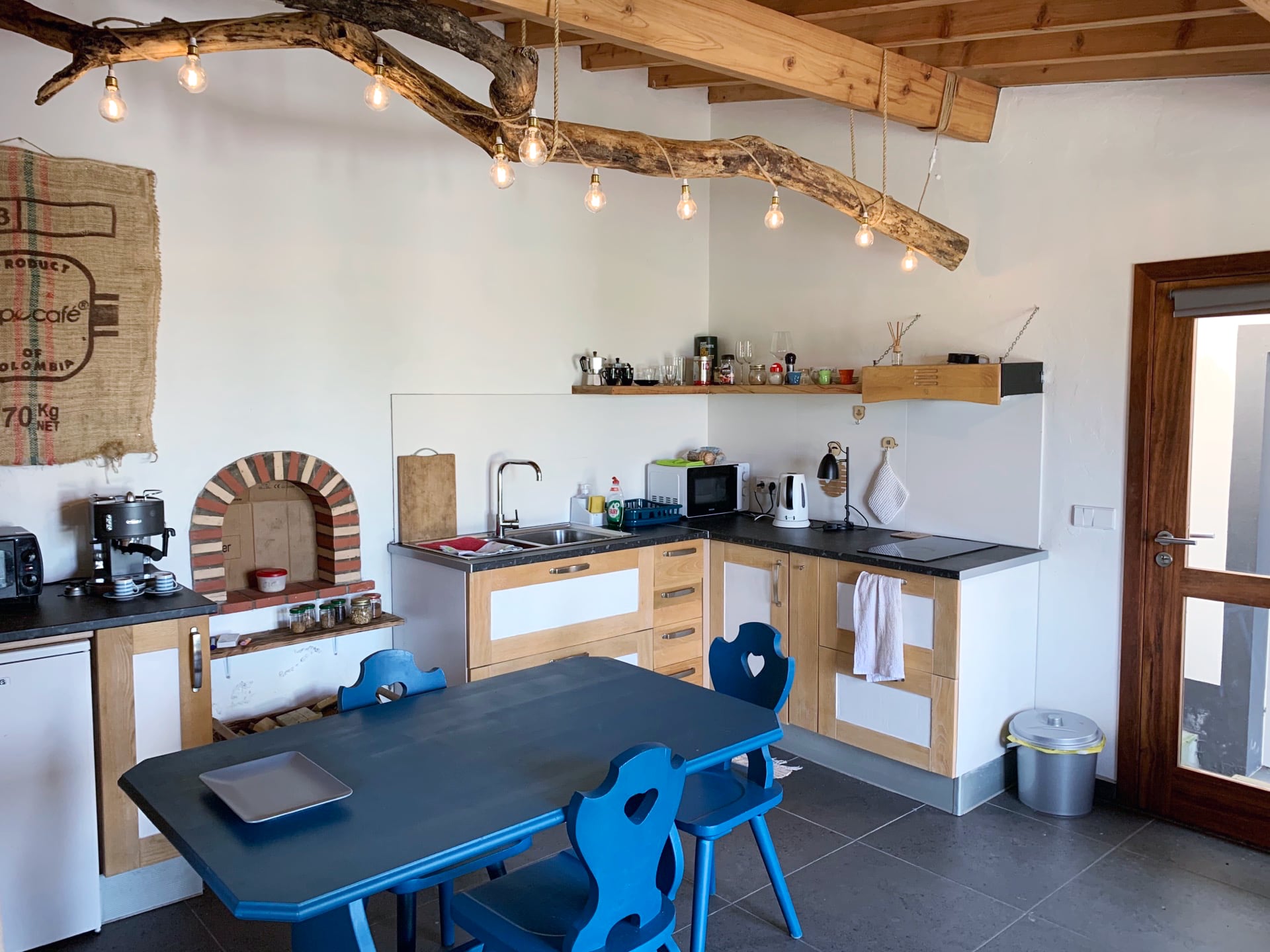 Full kitchen
The kitchen is equipped with everything you need for self-catering. Electric oven, microwave oven, refrigerator, kettle, espresso machine, moka coffee maker. Plenty of tablecloths, cutlery and pots and pans. There is a well-stocked mini market 500 metres from Casa Aguaplano.
Bed with ocean view
We built this bed (with access ladder) to give our guests the opportunity to enjoy the unparalleled view of the ocean that seems to float above the forest in front of our property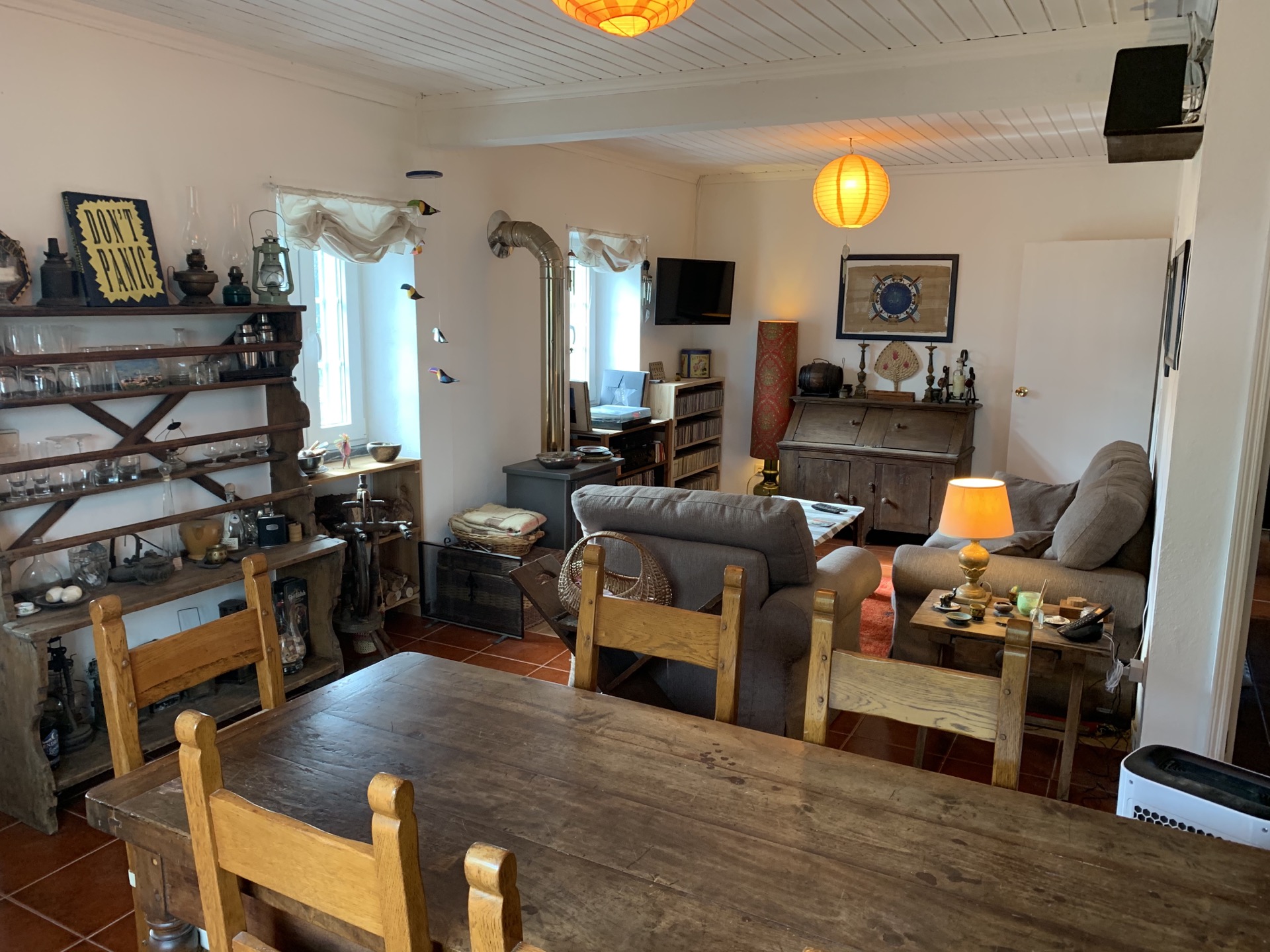 90 Sqm – Private bathroom
Suitable for a family or a group of friends, the suite is spacious with a large kitchen, a cosy living room with a wood-burning stove, and a study with a sofa that can also be used as an extra bed. The deck in front offers the possibility of enjoying incomparable sunsets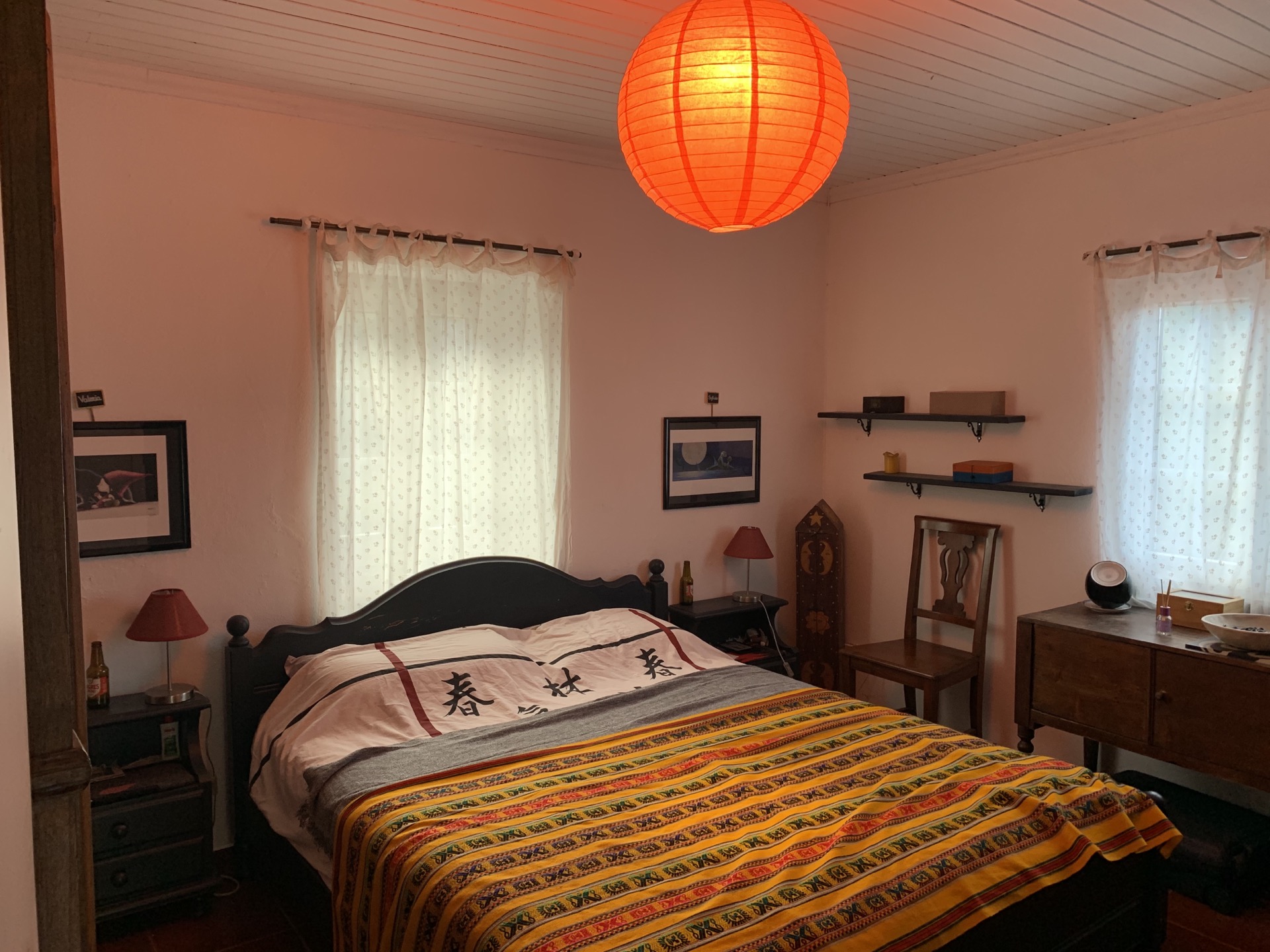 Comfort
Although the mild climate of the Azores hardly ever forces you to use it, the system ensures clean, fresh air and helps keep humidity under control. The Varadouro suite is furnished with fine furniture and extremely comfortable for a super stay!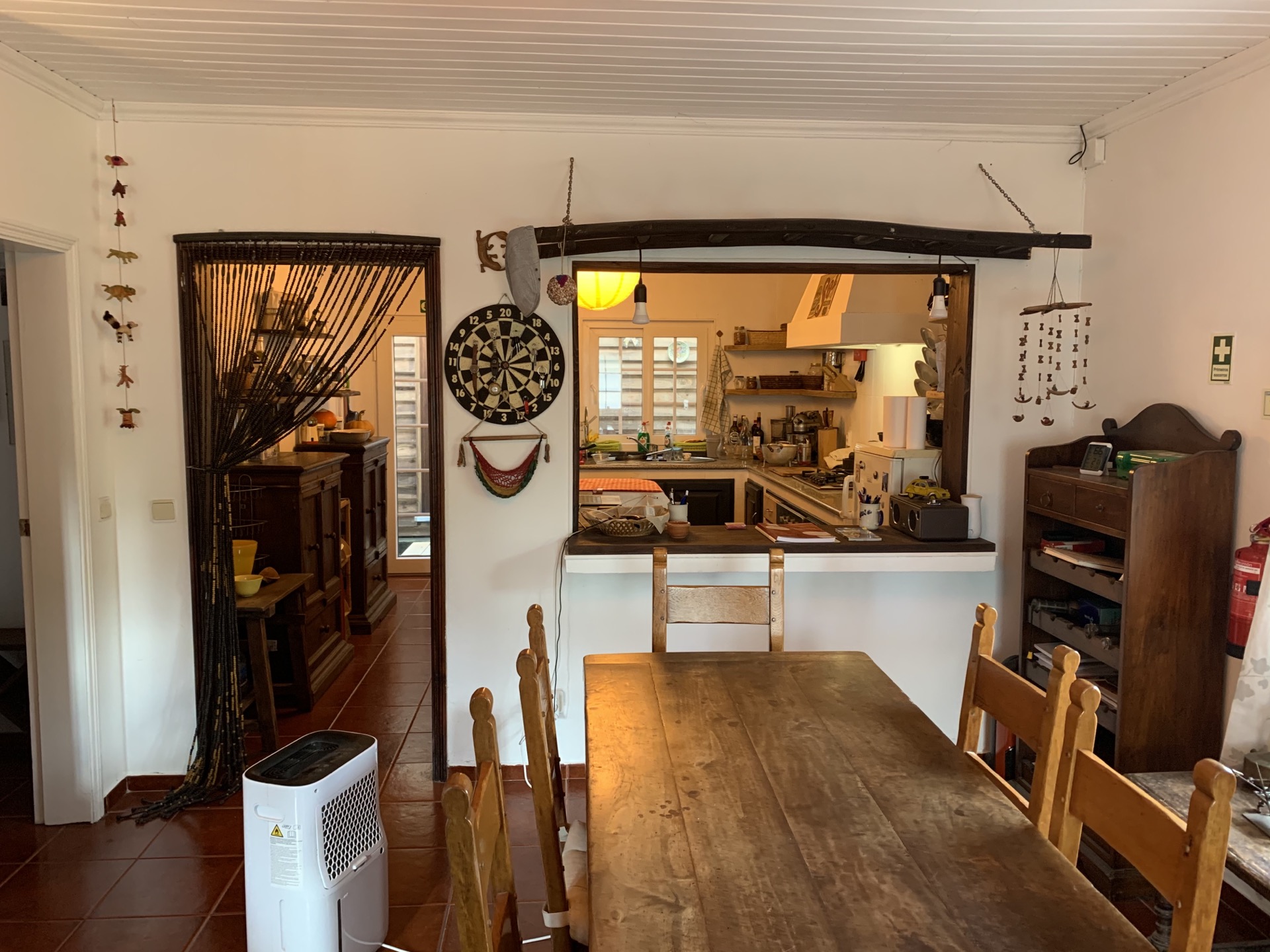 Equipped kitchen
Fully equipped kitchen even for long stays, with electric oven, gas cooker, everything you need in short to enjoy an unforgettable stay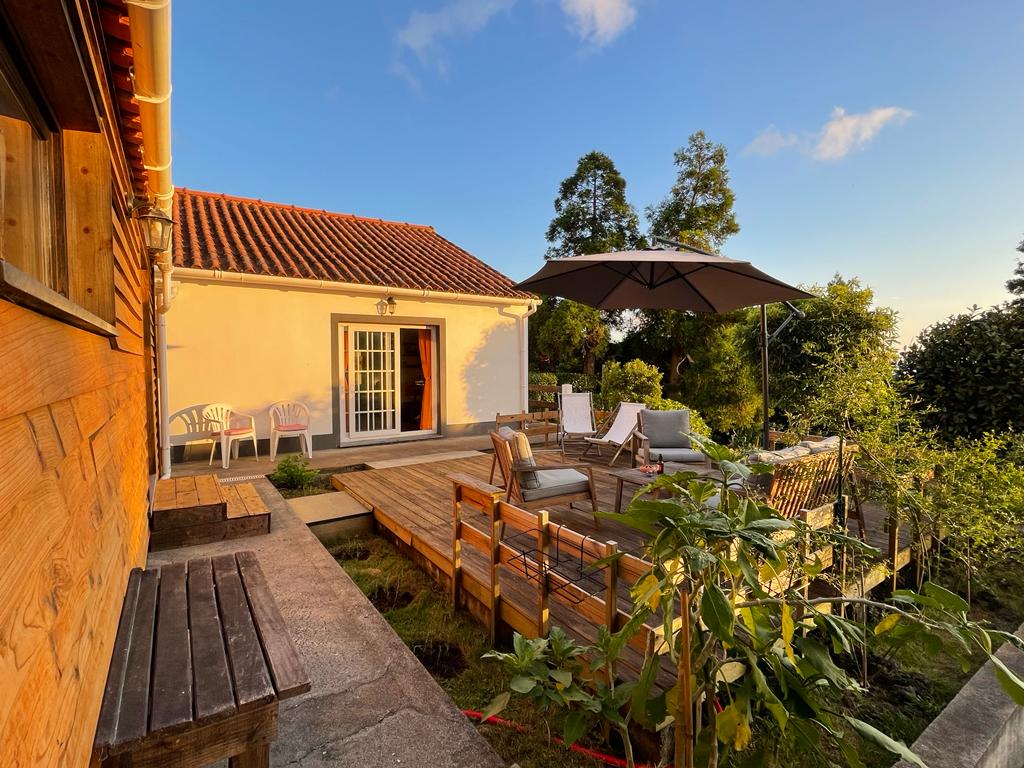 What they said about us
Testimonials
Dear Valeria and Sigfrido, thank you for letting us stay in your wonderful guesthouse

. We had the best week on the island!
See you again for sure!
Love, Dorte and Jens
Grazie per il tempo prezioso trascorso insieme, siamo felici che i nostri cammini si siano incrociati qui!
Até logo,
Andrea e Anita
What's included
Everything you need for an unforgettable stay indimenticabile
Washing machine and Tumbledryer
Deck with delightful view
Restaurants
BELAVISTA:
https://www.facebook.com/p/Restaurante-Bela-Vista-100064115256773/ Areeiro, 500 m distance
Phone: 292 945 204
Restaurant + Snack Bar
RUMAR:
https://www.facebook.com/pages/Cafe-Rumar/1867459670220788 Praia do Norte: 7 Km distance
Phone: 292 945 170 (English Spoken)
Restaurant + Snack Bar
CAFE' VULCAO:
https://www.facebook.com/cafe.o.vulcao.25/?locale=pt_PT Address: Cruzeiro n.o 2 Capelo,Horta – 2 km distance
292 945 243
Snack Bar
Mini Markets
Minimarket Queijeiro
Address: Areeiro, no. 7 : 600m distance Phone 292 945 263 (English Spoken)
Opening hours:
WINTER – Monday to Saturday – from 7:30 to 14: 00 and from 16:00 to 20: 00 Sunday from 7:30 to 13:00
SUMMER – Monday to Saturday – from 7:30 to 20:00 –
Sunday from 7:30 to 13 :00.
Also has a bar
RUMAR
https://www.facebook.com/pages/Cafe-Rumar/1867459670220788
Address: Praia do Norte: 7 Km distance Phone: 292 945 170 (English Spoken)
Atrs and Culture
Capelo Crafts Centre
Faial Island handicrafts: fig husk; straw embroidery on tulle; antique lace; fish scales; corn husk; cane; wicker; dragon tree,
Email: escolartesanato@hotmail.com
Phone: 292 945 027
Address: Alto dos Cavacos – 9900-303 Capelo
Outdoor & Adventure
Your content goes here. Edit or remove this text inline or in the module Content settings. You can also style every aspect of this content in the module Design settings and even apply custom CSS to this text in the module Advanced settings.
All Azorean beuty
We are waiting for you!
Valeria e Sigfrido