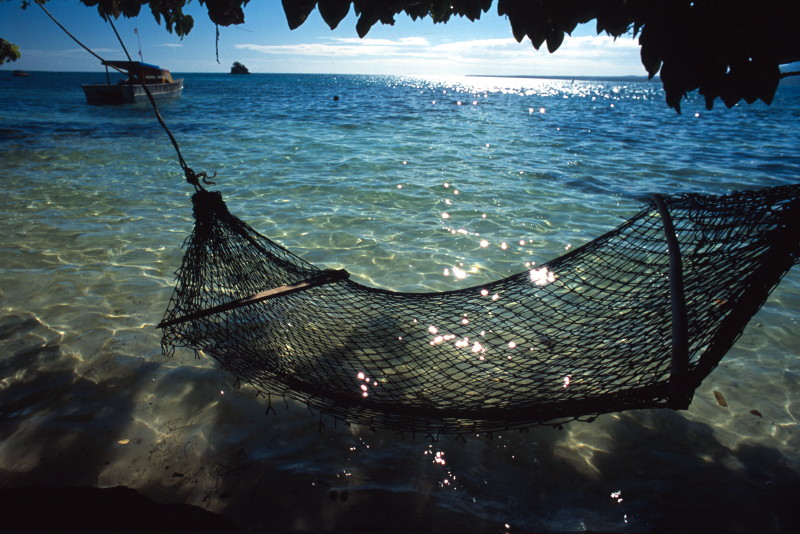 TRAVELOGUE
Have you ever dreamed of beautiful sand beaches and   palm fringes like the ones above? Well we did… so in the   Summer of 2003 we decided to go to the opposite side   of the planet to see all this beauty with our eyes. No   organized tours, as usual, they only serve to be packed   with people you don't choose as your travel   companions,  have schedules (come on, i've had   enough  at work!) and sometimes even pay more forless.
Anyway, we jumped on a 24 hours flight from Turin to Paris, Los Angeles and finally Nadi, the Fiji Capital. In the meantime we lost a day in the clouds (having departed august the 23 and arrived the 25, i happen to have lost my birthday in the middle of the Pacific, that's because the International Date Line passes right through Fiji).
We can resume all of our Fiji experiences in one sentence that an old man from Aussieland who had lived in Fiji for 30 years has told me while we were cruising from one island to another. Having asked him how he perceived the laid back atmosphere that reigns in Fiji, and the reason for the ever smiling attitudes of its inhabitants, he looked at me and said: "You know, this is just happy people…"
And it's easy to know why: 20 degrees at night and 30 at daytime throughout all the year, 12 hours daytime and 12 nighttime, white sands beaches with fruits and vegs everywhere, plenty of fish in the sea… etc.
In fact it's not always like this, there are contrast between the two principal ethnic group , the Natives and the Indians (which where brought here from India during the English colonial period), some of the islands are out of electricity (is it really a problem?) but if you meet a Fijan he would probably turn to you smiling saying "Bula!" (which means at the same time : Hello, Welcome, Goodbye, Cheers, Thank you)
We definitely are thinking that this could be one of the places we would like to stay when we get old…
ITINERARY
23 august 2003 – Milan – Frankfurt – Los Angeles – Nadi with Lufthansa and Air New Zealand
24 august 2003 –  a day lost in space – time zone miracle!
25 august 2003 – arrival at Nadi,Viti Levu Island at 2.30 a.m.
26 august 2003 – around Nadi
27 august 2003 – from Nadi to the South – Coral Coast – Queens Road – Sigatoka – Korotogo by bus
28 august 2003 – around Korotogo – Kula Eco Park – to Suva by bus
29 august 2003 – from Suva to Taveuni island in aereo
30 august 2003 – trekking per la Lavena Coasby plane
31 august 2003 – to Wayewu (south coast of Taveuni) by car – then on to Savu Savu (Vanua Levu island) by boat
1 september 2003 – from Savu Savu to Suva by plane – then another short flight to Levuka ( Ovalau Island)
2 september 2003 – around Ovalau
3 september 2003 – from Ovalau to Caqelai Island by boat – relax in Caqelai
4 september 2003 – back from Caqelai to Levuka by boat
5 september 2003 – from Levuka to Suva by small plane – then to Lautoka (King's Road, north coast) by bus
6 september 2003 – from Lautoka to Nadi – Flight Air Pacific to Samoa! Awesome!