Tanzania: Kilimanjaro and other stories
After months of training in our mountains (the Alps) we're finally ready to face the big mountain: the Kilimanjaro. From our point of view (we're not mountaineers, only trekkers) it's a going to be tough. We've been preparing this adventure for months, and we choose  to do the least followed of the 7 routes to Kilimanjaro: the Rongai Route.
The Rongai Route It's a 6 days trek starting from a small village near the Kenya border. Our guide Gabriel is great and so are the guys we hired from the local company  ilMaasai Expeditions (you can't do this climb alone, by law you have to hire guide and porters). The first three days are quite relaxing, if you're at least a bit fit. After 4000m /13100 ft of altitude, things are different, the nights are cold, and there's only a tent for shelter. There's nothing technical about this climb, not even ropes or crampons, it's just very long, we've walked 6-8 hour a day to get to the last camp at 4800m. / 15738ft. for the last night before the ascent to the crater.
Then, from there, we started at midnight for the serious day: it's about 1100mt / 3280ft ascent to the top of  Kili, then a 2000mt / 6500 ft. descent di Horombo Hut all in one day (it's about 14 hours). The ascent seems infinite, it's bitterly cold (to the top there were -20 celsius) , but in six hours we finally got to the top, and man, i cannot describe what we saw from there, the dawn from the crater is magical, although you can only stay there for a few minutes, it's too cold, and so we left that fantastic vision behind and started descending fast.
A word about Porters
It's been a beautiful adventure, thanks to the guys who brought us there, carrying everything including water up there. They deserve a better pay, some of them weren't wearing  proper clothes or shoes for that altitude and coldness, so if you go there, please bring with you some extra jackets or boots (something you don't use anymore). You can donate it to this association Mountain Explorers. They volunteer on raising funds and clothes to ease the job of this guys that carry 20 kilos of gear or more somtimes for a dollar a day.
After Kili, we went to visit the National Parks of Tanzania : Tarangire, Lake Manyara, Ngorongoro, Serengeti. The pictures explain better than words the magnificent things we've seen, these are really the last wild areas were you can see planet earth as it would probably looked thousands of years ago.
Then we left the organized tour and proceeded from Mwanza on the Victoria Lake by bus toward south to Shinyanga and then east by train (a terrible train!) to Kigoma on Lake Tanganica. In Kigoma we finally found the real Africa: in town there was only another white person except us. Our intention was to go visit the Mahale Mountains National Park, which is one of the last reserve where you can see the Chimpanzee in the wild. But we wanted to go by boat and not by plane (far too expensive), but we made some miscalculation on the time we needed, so we had to change our minds and head to Zanzibar for the last part of our trip : relax!
In Zanzibar we stayed in a beautiful bungalows on the south coast (the least crowded) for 4 days, then we went to Stone Town for a brief tour and finally back home…
Africa is a special, special place. It catches your soul like no other place… so as you will see in the next year we had to return to see our friends there  and those unbelievable skies, African Skies
Itinerary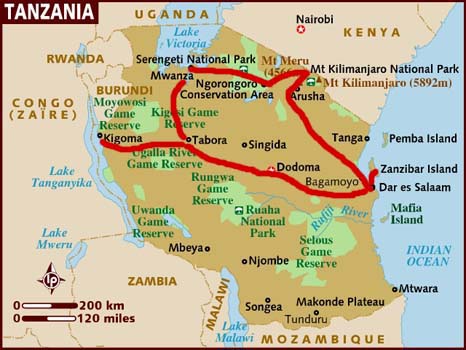 26 agosto 2006 – Torino – Londra – Dar es Salaam – volo British Airways
27 agosto 2006 – Dar es Salaam – Arusha – volo Air Tanzania – in giro per Arusha
28 agosto 2006 – Arusha – in giro per la città preparandoci per il trekking sul Kilimanjaro
29 agosto 2006 – partenza per il trekking sul Kilimanjaro – Giorno 1 – Rongai (1800 mt) – Simba Camp (2700 mt)
30 agosto 2006 – Giorno 2 – Second Cave – Kikeleva (3700 mt)
31 agosto 2006 – Giorno 3 – Kikeleva (3700 mt) – Tarn Hut – Mawenzi (4200 mt)
1 settembre 2006 – Giorno 4 – Tarn Hut (4200 mt) – Kibo Hut (4750 mt) – Gilman's Point (5710) – Uhuru Peak (5895 mt)
2 settembre 2006 – Giorno 5 – Uhuru Peak (5895 mt) – Kibo Hut (4750 mt) – Horombo Camp (3700 mt)
3 settembre 2006 – Giorno 6 – Horombo Camp (3700 mt) – Marangu Gate (1900 mt) – Arusha
4 settembre 2006 – Safari – jeep e campeggi – da Arusha al Parco Nazionale del Tarangire
5 settembre 2006 – Safari – jeep e campeggi – Parco Nazionale del Lake Manyara  vicino a Mto Wa Mbu
6 settembre 2006 – Mto Wa Mbu – tour del villaggio
7 settembre 2006 – Safari – jeep e campeggi -Riserva Nazionale di  Ngoro Ngoro
8 settembre 2006 – Safari – jeep e campeggi – Parco Nazionale del Serengeti
9 settembre 2006 – Safari – jeep e campeggi – Parco Nazionale del Serengeti
10 settembre 2006 –  Lago Victoria – Mwanza – in giro per la città
11 settembre 2006 – da Mwanza a Tabora in bus
12 settembre 2006 – da Tabora a Kigoma in treno – lago Tanganica
13 settembre 2006 – Kigoma – lago Tanganica – in giro per la città
14 settembre 2006 – da Kigoma a Dar es Salaam in aereo – Air Tanzania
15 settembre 2006 – da Dar es Salaam a Zanzibar in aereo – Stone Town – Jambiani (costa est)
16 – 19 settembre 2006 – Jambiani (costa est)
20 settembre 2006 – da Jambiani a Stone Town – Tour delle Spezie
21 settembre 2006 – in giro per Stone Town – a Dar es Salaam in aereo – ad Arusha in bus
22 settembre 2006 – da Arusha a Dar es Salaam in bus (10 ore)
23 settembre 2006 – Dar es Salaam – in giro per la città
24 settembre 2006 – Dar es Salaam – Londra –  Torino – volo British Airways