Bolivia: Following Butch Cassidy and the Sundance Kid's footprints
For our next destination after Indonesia, in 2002 we decided to go on the other side of the planet, in South America. Having realized how big it is, we decided to visit Bolivia and Peru , roughly in the center of the continent, so that we could have a glimpse of two countries, the Andes, the Pacific Ocean, some of the best archeological wonders, and some strange animals.
For the first half  of the trip, we got to Lima first, then we flew straight to La Paz, (which IMHO is one of the most beautiful city in the world). From there we explored by bus, trucks and jeeps the andean region (including the Salar of Uyuni, an incredible flat entirely made of pure salt as big as a staggering 4000 square miles) towards the border of Chile. Then back to La Paz, from where we headed towards Peru (read the next chapter)
The people here have thick, sun tanned skin, the mix of Indigenous and Spanish origins are well visible in the eyes and the amazing black hair they have. There is a feeling of  fatalism everywhere, as if the 500 hundred years of Spanish domination had destroyed the remains of the proud old Incas, but things are changing in the last years, and a new national pride is taking place, especially since Evo Morales (of indigenous origin) was elected Head of State.
It's hard to describe of beautiful these places are, but we can recommend it to anyone is interested in vast plain, endless horizons and sleepy villages in the middle of nowhere. Also, don't forget to spend some time in La Paz, and if you go there, make sure to do the road from El Alto to the capital on a clear (maybe freezing) starry night. Then stop by the side of the road, get out of the car and turn the engine off for a while. Look down toward the city, you will not be able to distinguish the stars from the city lights. It's awesome!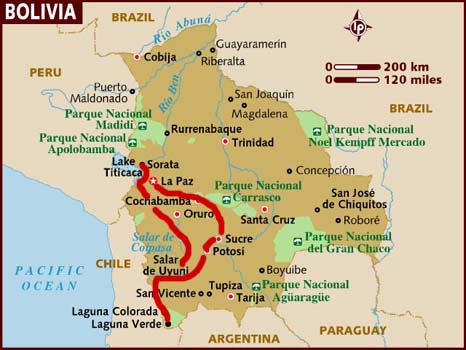 1 -2 august 2002 – Milan – Caracas – Bogotà – Lima by plane
3 august 2002 – around Lima
4 august 2002 – around Lima – then from Lima to La Paz by plane
5 august 2002 –around La Paz
6 august 2002 – from La Paz to Sucre by bus – then around Sucre
7 august 2002 – from Sucre to Potosì in bus
8 august 2002 – from Potosì to Uyuni
9 agosto 2002 – tour on the Andes – Salar de Uyuni – Isla de Los Pescadores – San Vicente
10 august 2002 – San VIcente – Laguna Colorada (4278 mt)
11 august 2002 – Laguna Colorada – border with Chile – Laguna Verde – Volcan Licancabur (5960 mt) – Kulpina Ka
12 august 2002 – from Kulpina Ka to Uyuni – around Uyuni – night ride to  Oruro – La Paz by bus
13-14  august 2002 – around La Paz
15 august 2002 – from La Paz to Copacabana – Lake Titicaca
16 august 2002 – Copacabana – Lake Titicaca – trekking on Isla del Sol
17 august 2002 – from Copacabana, Bolivia – to the border of Peru