Central America: viva la vida!
Four weeks can be a short period of time when you want to see all Central America, but we decided to try anyway : instead of visiting one country on the whole, we choose two or three notable places for each country and then go for it! Let's try and see what the road brings to us, being prepared to change itineraries if necessary.
So, once arrived in Guatemala, we headed to Antigua, climb the Pacaya Volcano as any good backpacker do here, and then on to Atitlan Lake for two days. From there back in Guatemala City to take a necessary plane to the north to see the magnificent archeologic site of Tikal.
Then, we went by bus to Belize. Belize is an exception in Central America. It is a country populated by black people, english speaking (it was a United Kingdom's colony). We went straight to the small island of Caye Caulker to see the big reef (second only to the great Australian one) and we stayed for a while doing snorkeling on the Blue Hole (an incredible circular "hole" 240ft deep and 300ft wide) with the company of BIG bull sharks (i was terryfied , i admit) swimming just a few meters below us.
From Belize City we took a flight to San Salvador (the capital of El Salvador) attracted by the stories of guerrilla we had heard when we were kids. In fact El Salvador is a fantastic country and the stories of danger and murders are exaggerated. Still, the city of San Salvador in some part is really scary and one have to be careful when walking around.
In El Salvador we discovered two nice places : Suchitoto and Juayua. Two simple town full of great people with lots of stories to tell about the dark years of the USA backed atrocity. A history lesson. We went to see the guerrilla camp in the jungle and one of the place – Cinquera – were many unarmed people were massacred by the army looking for "communists". In fact the communists in El Salvador at those times were very few, the majority of the population was simply tired of being exploited by the rich and the army, too.
After a tour (this time only nature, no history) in the coffee plantations and the waterfalls around Juayua, and a short break in San Salvador we left El Salvador by Bus to Nicaragua, destination Leon.
The history of Leon and Granada (the third and second biggest city in Nicaragua respectively) is the story of two enemy cities, being Leon a "leftist" city and Granada the most conservative place in Nica. Leaving behind the political matters, both town have a charming city centre (Granada almost as polished as any western town) and horrible suburbs, were people live in terrible conditions. The best experience we had here, apart form the cultural things, was the encounter of a Spanish guy (i should say Catalan): Tio Antonio, who had come here for business and ended up founding an association to protect and give jobs to the children of Granada. Take a look at his website, he's a great person.
From Granada we went on to Isla Ometepe, one of  the world's biggest lake island, formed by two volcanoes joined by an isthmus, and then back to the border of Costa Rica. In Costarica we visited Tortuguero, one of the most interesting place. It's a beach were every year hundreds of Giant Green Turtles (250 kg!) come to lay their eggs. We had the opportunity to see them at night actually laying their eggs and then slowly go back to the ocean.
From there by boat we reach Panama Border to go to the fabulous archipelago of Bocas del Toro to have some days of rest, then on to Panama City to see the Panama Canal then at the Airport for the return flight.
It was an amazing journey through many cultures, glimpses of many different landscapes, faces, and places we will never forget.
Viva la Vida!
ITINERARY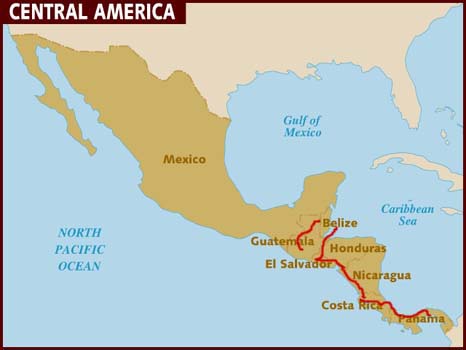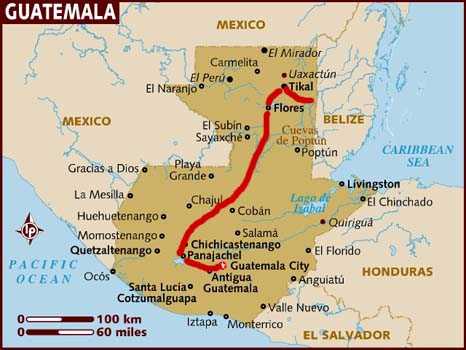 26 august 2008 – flight Iberia – Torino – Madrid – Guatemala City – to Antigua by bus
27 august 2008 – around Antigua
28 august 2008 – trekking on Pacaya Volcan
29 august 2008 – from Antigua to lake Atitlan – Panajachel – on lako Atitlan by boat
30 august 2008 – from Panajachel to Guatemala City by bus – flight to Flores 
31 august 2008 – from Flores to Tikal by bus – trekking trhough Tikal archeological site  – back to Flores by bus
1 september 2008 – from Flores to Belize City by bus – to Caye Caulker Isnalnd by boat
2 september 2008 – by boat – snorkelling around Caye Caulker and to San Pedro
3 september 2008 – by boat – tour to the magnificent Blue Hole and the marine park islands
4 september 2008 – from Caye Caulker to Belize City by barca – to San Salvador – El Salvador – by flight
5 september 2008 – from San Salvador to Suchitoto in bus – around Suchitoto
6 september 2008 – trekking around Suchitoto – Nazional Park – guerrilla paths – Cinquera
7 september 2008 – around Suchitoto
8 september 2008 – from Suchitoto to la Ruta de las Flores by car: Sonsonate,  Apaneca, Ataco, Juayua
9 september 2008 – trekking around Juayua – coffee plantations – forests – waterfalls
10 september 2008 – from Juayua to Sonsonate – San Salvador by bus
11 september 2008 – from San Salvador to Leon, Nicaragua through Honduras
12 september 2008 – around Leon – then from Leon to Granada by bus
13 september 2008 – around Granada
14 september 2008 – around Granada – tour to Las Isletas by boat
15 september 2008 – from Granada to Rivas – San Jorge by bus – from San Jorge to  Ometepe Island by boat – tour of Ometepe by bus
16 september 2008 – trekking around Ometepe – yet more forests and waterfalls!
17 september 2008 – from Ometepe back to San Jorge by boat – then from San Jorge to Rivas – Pena Planca (border with Costarica ) by car – then another bus to San Josè
18 september 2008 – from San Josè to Barra del Colorado in a scary flight – then to Tortuguero by boat – in the night we went on the beach to see the giant green turtles lay their eggs
19 september 2008 – around Tortuguero National Park by boat and trek inside the forest
20 september 2008 – from Tortuguero to Moin by boat – then onto Limon – Cahuita by bus
21 september 2008 – around Cahuita
22 september 2008 – from Cahuita to Bri Bri, Puerto Viejo, Sixaola – to the Panama border by bus – to Almirante in taxi – to Bocas del Toro by boat
23 september 2008 – around Bocas del Toro – Bocas del Drago – Playa de Las Estrellas
24 september 2008 – around Bocas del Toro – Coral Cay – Playas Ranas Rojas – Hospedaje Bay
25 september 2008 –around Bocas del Toro – to Isla Bastimentos by boa – trek through Isla Bastimentos
26 september 2008 – from Bocas del Toro to Panama City by plane – around Panama CIty
27 september 2008 – around Panama City – visit to the Panama Canal – night flight to Madrid
28 september 2008 – from Madrid back to Torino – whew! what a ride!