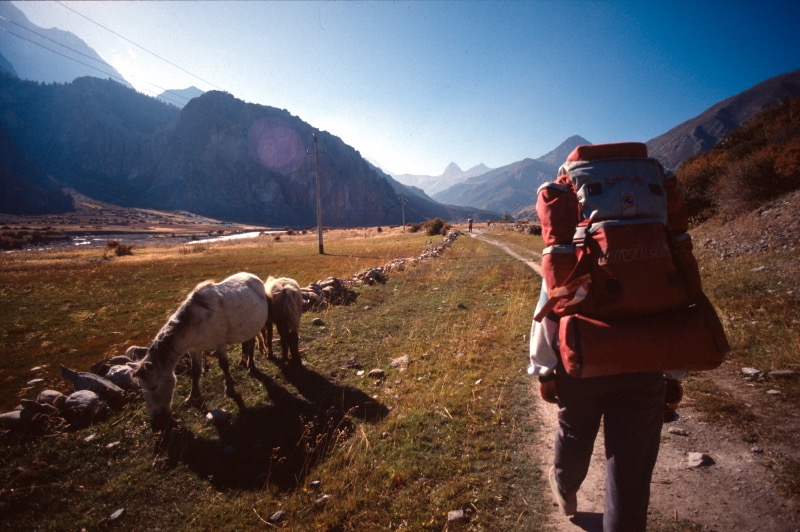 The perfect backpack is a utopia. Journey after journey is perfected and lightened. We for example have gone from 15 (!) Kg of the beginning to never have more than 8-10 kg. Over time you learn to leave a lot of stuff at home that at the end of the trip you find that you have NEVER used, but that you have dragged yourself along all the time. Your shoulders will be grateful
In principle, however, for us it should be of medium-high capacity (60-70 lt), waterproof – with side openings that facilitate access to the contents.
Moreover, it often happens to visit countries that have profoundly different climatic zones, with temperatures that are often very different depending on the area in which one finds oneself, consequently if, during the journey, one goes for a trek in the high mountains, for example, certain animals and equipment can be easily rented, and you are not forced to find yourself in your backpack the following week, when perhaps you are in a t-shirt and flip-flops on an atoll with 35 degrees.
Here is a non-exhaustive and decidedly subjective list of what it should contain:
Clothing
at most two pairs of trousers (those that turn into shorts to understand each other)

 two t-shirts

a sweater

a light waterproof jacket

underwear (not too much, it's the easiest to wash and dry on the go)

a pareo for women

an alternative pair of shoes
Tools
another small backpack for when leaving luggage during an excursion

waterproof capes that also cover the backpack

flashlight

a universal adapter

a multi-function knife

string

some bags to isolate dirty clothes

a small towel

a pillowcase (also serves as a bag if needed)
Pharmacy
Pharmacy and personal hygiene: truly the bare minimum unless you go for four weeks in the Amazon forest. They are now to be found everywhere. For those who wish to start off, we suggest:

an antibiotic

a painkiller

an antidiarrheal

a disinfectant

bandage and patches

a product to disinfect water

lactic ferments and salt supplements depending on the climate you will encounter
bathroom items
toothbrush and toothpaste

only one product for body and hair
And you? What do you put in your perfect backpack? Let us know!