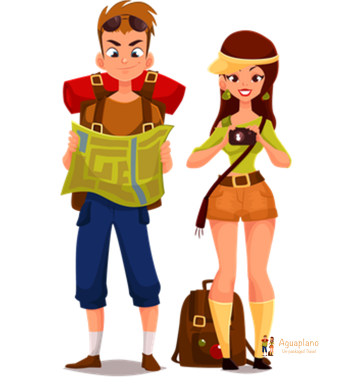 Unfortunately there is no such a thing as the perfect backpack. Your backpack gets better and better trip after trip as your experience improves. And it gets lighter too! In our first travel we used to carry a 15 kg backpack (!). now we don't stuff in it more than 8-10 Kg. Over time we have learned to leave at home a lot of stuff that, at the end of the trip we found out we NEVER used but we carried all the time on our shoulders.
As a guideline the backpack should be 60-70 lt capacity, waterproof, with lateral zips to quikly access your stuff.
Another way to keep your backpack light is not to carry around gear that you will only use in a particular situation as for example if you go for a trekking in the moutains for a short period. In this case our advice is to rent the gear you need, so you will not be carrying it the next week where you will be wearing shorts and flip-flops on a Caribbean Island with 35° degrees!
Here is non exaustive and subjective list of what we think you should be carrying in your backpack anyway:
Clothes
two pair of trousers

two/three t-shirts

a pile

light waterproof jacket

underwear (it's easy to wash and dyr so keep it at a minimum)

a sarong (for women)

another pair of light shoes (other than your trainer/hiking boots
Gear
Another small backpack with personal stuff inside

Waterproof covers for your backpacks
Head torch (well maybe these days your phone will do)

Universal adapter

Swiss army knife

Some ropes

Plastic Bags for dirty clothes (!)

A small towel

Pillowcase and an inflatable pillow
Medical
Keep it really really at minimum unless you go in remote areas, you can find what you need almost everywhere these days.
Antibiotic

Painkillers

Anti-diahorrea

Disinfectant

Bandage and band-aids

Water purifying product

Mineral integrators
Personal Hygiene
Same rule: carry only what you really need! You are a traveler not a model 🙂 Be careful with liquids: bottles with more than 125 ml will be seized in airports!
toothbrush and toohpaste

on single product for whashing hair and body

razor
Let us know what YOU put in you backpack so we can refine our list!