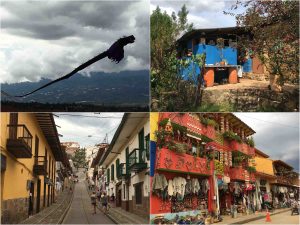 August 17-23, 1027 – After coming back to Bogptà from the magnificent Cano Cristales we head north to the Boyaca province by bus.
Destinations : Villa de Leyva, Raquira, Guadalupe, Barichara.
Our first stop on the way is Raquira, a nice little village that we use as a base for the next few days. We stay at a B&B tucked in the middle of the country run by a couple of truly unique and welcoming women
The next day we are in Villa de Leyva, which is a bit too touristy but nice. here we have the chance too see a truly remarkable event: the Festival de Las Cometas (Kite's Festival) which is held every year sicnce 40 years!
Although a storm at one point interrupts the kermesse we have a nice afternoon looking at the hudreds of kites flying over the plaza. Then on the way back to Raquira we have a nice evening with the b&b's ladies which resolves with an entire bottle of tequila gone!
The next day we move up north to visit a little known place called Guadalupe. This is a really, really nice little town in the middle of the mountains, home of the very popular (with the locals) Las Gachas, incredible holes in the middle of a lovely brook where you can bathe in, looking at the spectacular valley around. Free Jacuzzi!
The third place we visit going further north is the wonderful Barichara: here too we walk in the narrow streets admiring the colonial houses and churches. Th following day we do a trekking to a nearby village following a path that stretches along a big breattaking canyon. So many things to see in Colombia!!