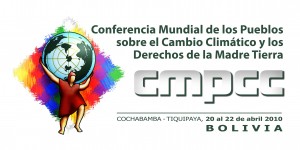 During four days from April 19 to 22 in Cochabamba, Bolivia, intellectuals, political and showbiz personalities will join associations and local representatives in a People World Conference about climate changes and "Mother Earth" rights.
The Conference purpose is to discuss alternative solutions to the climate emergency, and to give voice and strenght to the poor populations around the world which are often reduced to be the sole victims of the catastrophic consequences of climate changes.
Among the many hosts and speakers at the conference will be sociologist Naomi Klein, linguist Noam Chomsky , actors Danny Glover, Susan Sarandon, actor and director Robert Redford, director James Cameron (Avatar) , and the scientist James Hansen.
The conference will also try to respond to the poor (if none) results achieved in the last December ONU meeting in Copenhagen. Bolivia's president Evo Morales and his government want to promote the creation of a Paper Rights and an International Tribunal to be the reference for everyone on all climate changes issues.
Beside the conference's talks many collateral meetings as well as 17 discussion forums will be followed by the National Bolivian TV and Radio media and from the Web.
More info at www.cmpcc.org