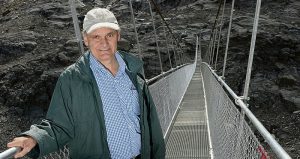 Toni Rüttimann, (Pontresina, 21 August 1967) is a Swiss bridge builder who works in Southeast Asia and in Latin America, where he is known as Toni el Suizo (Toni the Swiss).
Toni Rüttimann works independently alongside communities in need, using recycled materials and charging no fees.
Companies contribute by donating their used material and local governments concede permits and help with transportation in recognition of the fact that the main effort is made by the population. No one asks for anything in return and the bridge belongs to the population who built it.
The bridges are for use of pedestrians, pack animals, motorcycles, two-wheel-tractors – but not for cars.
In every country where Toni works, he builds up a small team of national welders and looks for one "bridge-building partner", to whom he teaches his craft, and who in turn is able to perform maintenance duties on the bridges built.
Toni has no home residence: he carries everything he needs in two bags. One for his personal belongings, the other for his laptop computer and a few tools for his trade.
In collaboration with local communities, he has built 760 bridges which serve 2 million people (as of August 22, 2017).