Tofo and Vilanculos
The beaches of Mozambique
How to relax and watch the whales play in front of the beach at Tofo and Vilanculos
Mozambique holds the longest stretch of Indian Ocean coastline in Africa with some of the most unspoiled beachfront. 2600km of mostly unexplored and often unnamed beaches make this a destination for backpackers and eco-tourists.
Among these beaches two has already becoming an attraction due to the presence of some kind of touristic infrastructure: Tofo and Vilanculos which lies in front of the magnificent Bazaruto Archipelago
Many other beaches are yet to be "discovered" like the Quirimbas Archipelago among many others mostly because they are difficult to reach. North of Vilanculos roads are bad, public transport is sporadic, and there are frequent troubles due to the political situation between the ruling FREELIMO party and its couterpart RENAMO.
A part from this difficulties, distances are immense so if you plan to explore the north plan to have plenty of time. For now we would like to give you all the infos we have on the easiest ones: Tofo and Vilanculos (sometimes spelled Vilankulo)
Tofo Beach  – How to reach it
Tofo is a small village on the east side of the Inhambane Peninsula, situated 500km north from Maputo, Mozambique capital city. Inhambane itself is a nice little town and you can stay here for a night if it's too late to go straight to Tofo. We suggest Africa Tropical as a good, cheap place to stay.
To get here from Maputo you have two options: the first is to go to Junta Station and catch any bus going north to Inchope, Beira, Nampula or Pemba, and ask to drop off at Maxixe , which lies in front of Inhambane across the Bani bay. The cost should be around 700Mts. It is a long journey (8-10 hours) and buses starts usually at 4,30 or 5 am, so it's best to book a ticket the day before. If you stay at Fatima's Backpacker in Maputo there is a "shuttle" service that costs 1000 Meticais, which is basically the same as the public ones (a "Chapa"), very uncumfortable and crammed with people, so it may not be worth the extra Mts. 
Once you get to Maxixe head for the small port and buy a ticket (15 Meticais) for the ferry that goes across the bay to Inhambane (20mins). Once in Inhambane you can choose to sleep here, or if there is enough time, catch a Chapa (Minubus) to Tofo (150 Meticais) which is at 22km on the other side of the peninsula. You should be able to do this last leg in about an hour or so.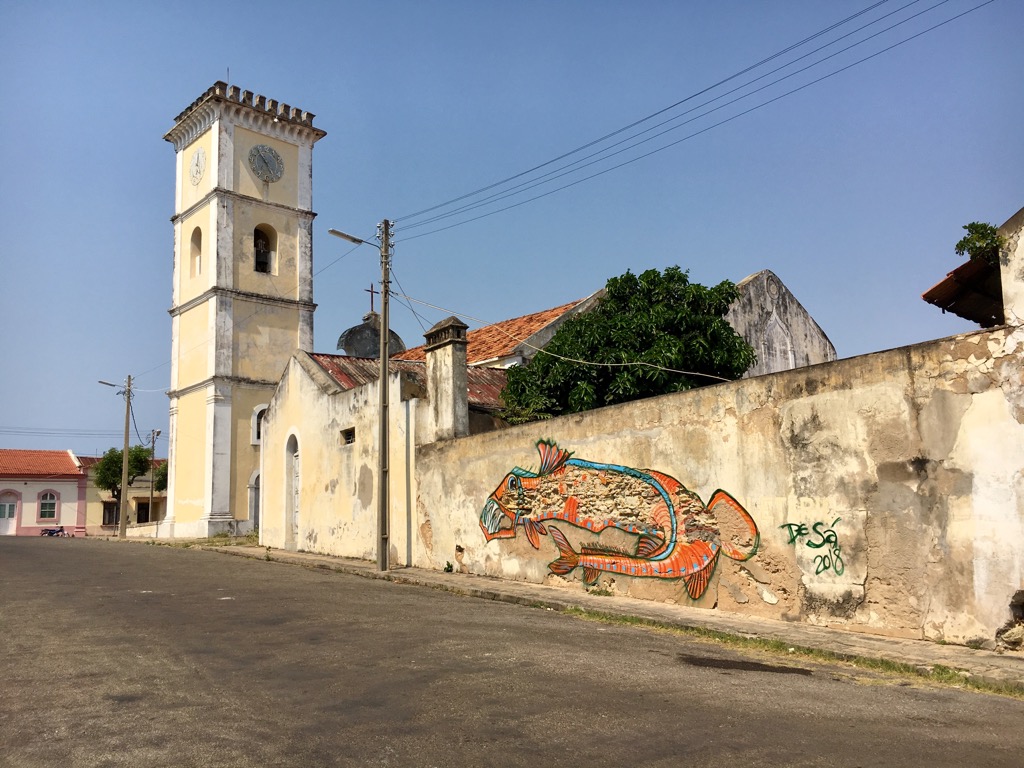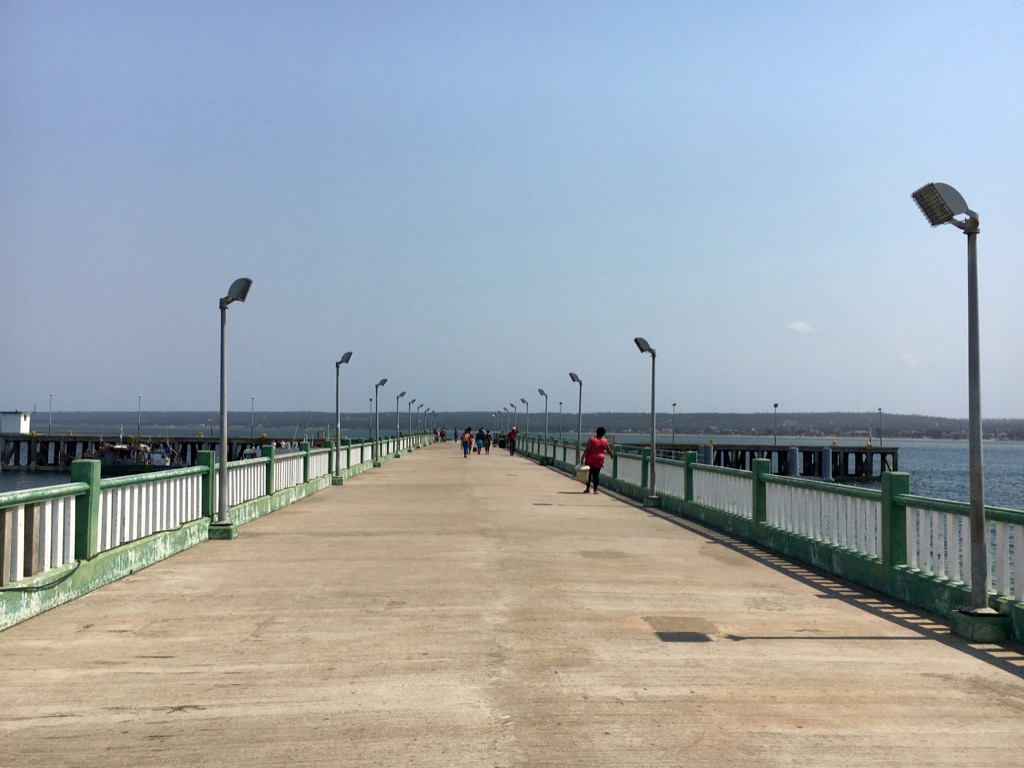 The other option is to fly to Inhambane (expensive – 180-200$) and then take a Chapa straight to Tofo which is some 15km away from the Airport.
Of course, if you have a car you can just drive north on the N1 "highway", which is all paved and in good conditions, straight to Inhambane and then do the last 22km, also paved, to Tofo Beach.
What to do in Tofo Beach
Tofo Beach is a huge stretch of beach and is a famous surf destination, especially in its southern part called Tofinho, but it is also a pleasant place to swim, keeping in mind that this is the Indian Ocean, so be careful about strong currents since it is not protected by a reef.
There are also many tour agency who can organize diving trips, PADI courses and whalewatching. We did not do whalewatching by boat but we were able to see many whales jumping out of the water right in front of our backpackers resort (Fatima's Nest).
Where to stay in Tofo
There are countless options in Tofo, so we are not able to list it all. We choose to stay at Fatima's Nest, which have a "twin" site in Maputo. It is a nice classical backpackers hostel, with campsite, bunngalow shared/ensuite. Nothing special but reasonably priced and it has a nice bar and restaurant in front of the beach.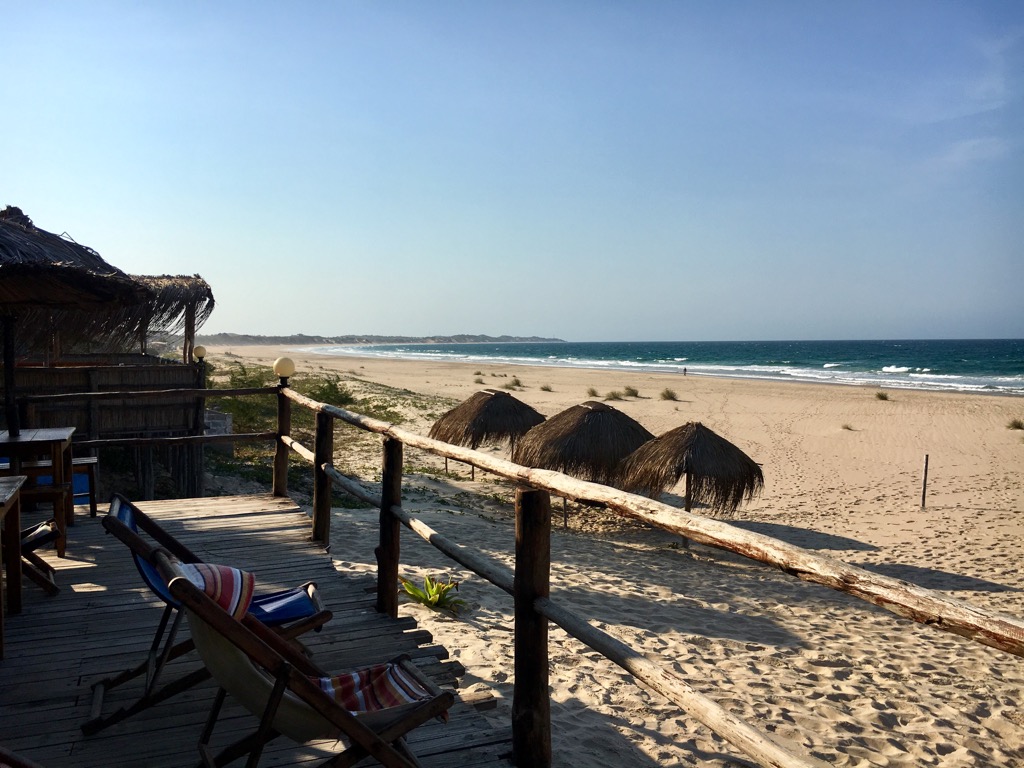 Vilanculos and the Bazaruto Archipelago
How to get here
Vilanculos is arguabily the most touristic destination in Mozambique, due to a new airport and packaged tours to the beaches and the island of Bazaruto, Benguerra, Magaruque, Banque, Santa Carolina (also known as Paradise Island) and Shell which along with the more remote Nyati form the Bazaruto archipelago.
If you are in Tofo you can reach Vilanculos in a few hours by public transport this way:
– Early in the morning catch a Chapa to Inhambane. It is a short ride of about 22km, wich takes an hour or so because Chapas stop all the time to drop off and pick up people. It should cost less than 50Mts but unless you are a very able negotiator you will likely pay a hundred or more. Remeber that Chapas in Mozambique charge also for luggage, so ask about the full price (you and your backpack).
– Once in Inhambane head to the port, which is small and close to the bus station, just ask for directions. In the port go straight to the ticket office (the new small building) and buy the ferry ticket for 15MTs. Then head to the pier and wait for one of the to old ferries which go back and forth all day. The trip is without hassles and should last 20 minutes or so.
– The ferry drops you off at Maxixe port (pron. Maseesh). For there a short walk up a small hill will take you to the main national road (N1) then ask for a Chapa to Vilankulo. If possible choose a Chapa in "good" conditions and already half full. (They wait for long – even hours –  to leave unless it is completely full)
Some of them go straight to Vilankulo which is about 30km east of the N1 at the crossroad in Pembarra, other will drop you off at the intersection and head you to another Chapa for the last leg of the trip. Either way, it should take about 3 and a half hours to get there and the cost again depends on your ability to negotiate the price (usually between 250 and 400 Mts.
If you are lucky you should be able to get there by 1pm, if less fortunate at 3Pm, but no more than that.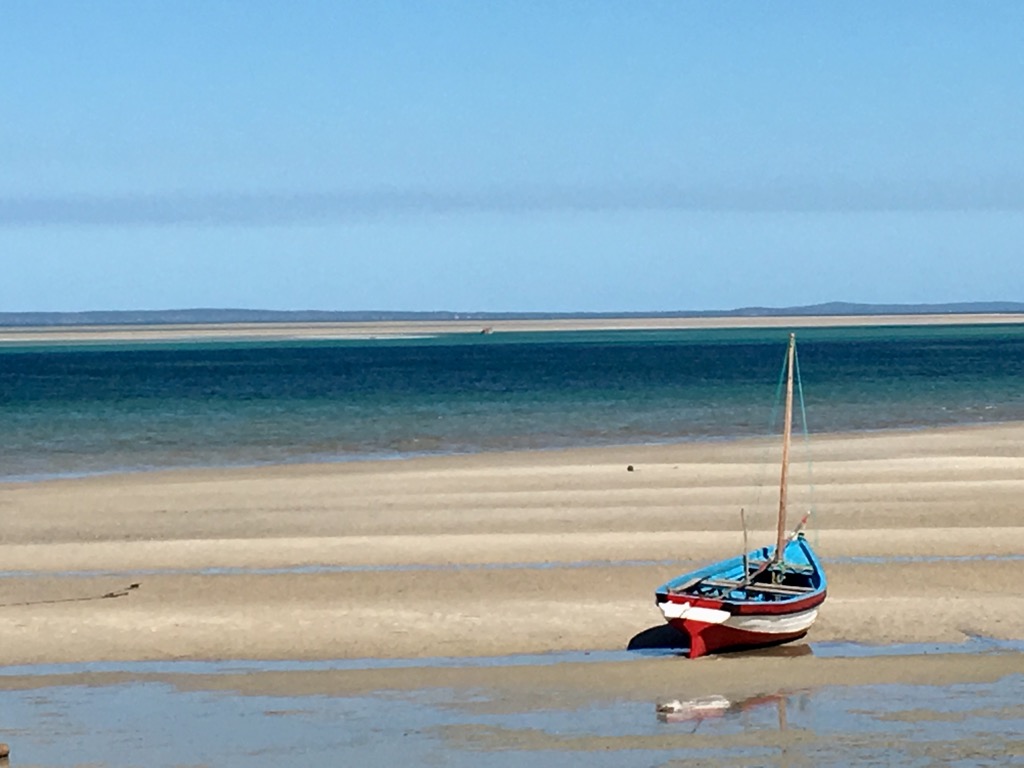 Where to stay in Vilanculos
The three main islands of the Archipelago (Bazaruto, Benguerra and Santa Carolina) are well known destination for people with lots of cash (there is a resort that charges 1500$ pp/night!!) so they are not an options for staying for the classic backpacker. It is also not possible to camp on the islands as they are inside the Bazaruto Marine National Park. So the only cheap options are on the mainland in Vilanculos and they range from a few hundred Mts for camp or dorms to 2500/3500 Mts for a bungalow shared bath/ensuite.
We stayed at the lovely and well managed Baobab Beach Resort. It is close to the centre, in front of the beach, has all the classic backpackers facilities (free kitchen, laundry, wi-fi etc..) and the Italian lady who manages it,  Marina,  is very experienced, friendly and helpful. Together with her Mozambican husband Helder she can organize all sorts of tour, trips and even events and she know everything about the town and the islands. Highly recommended!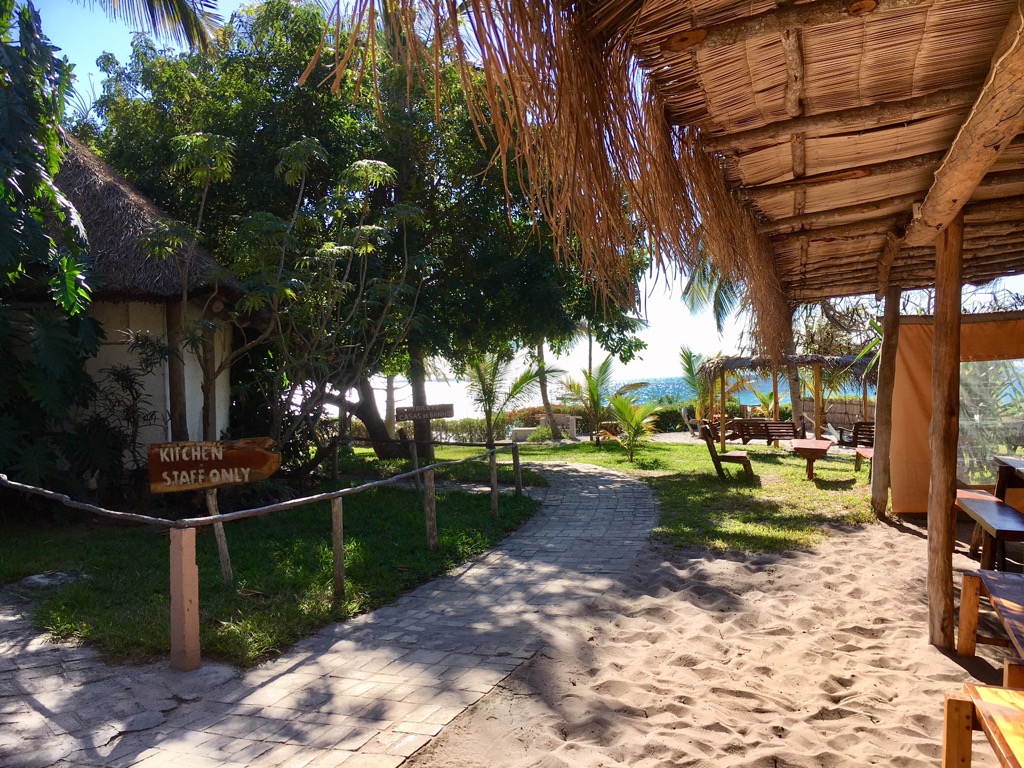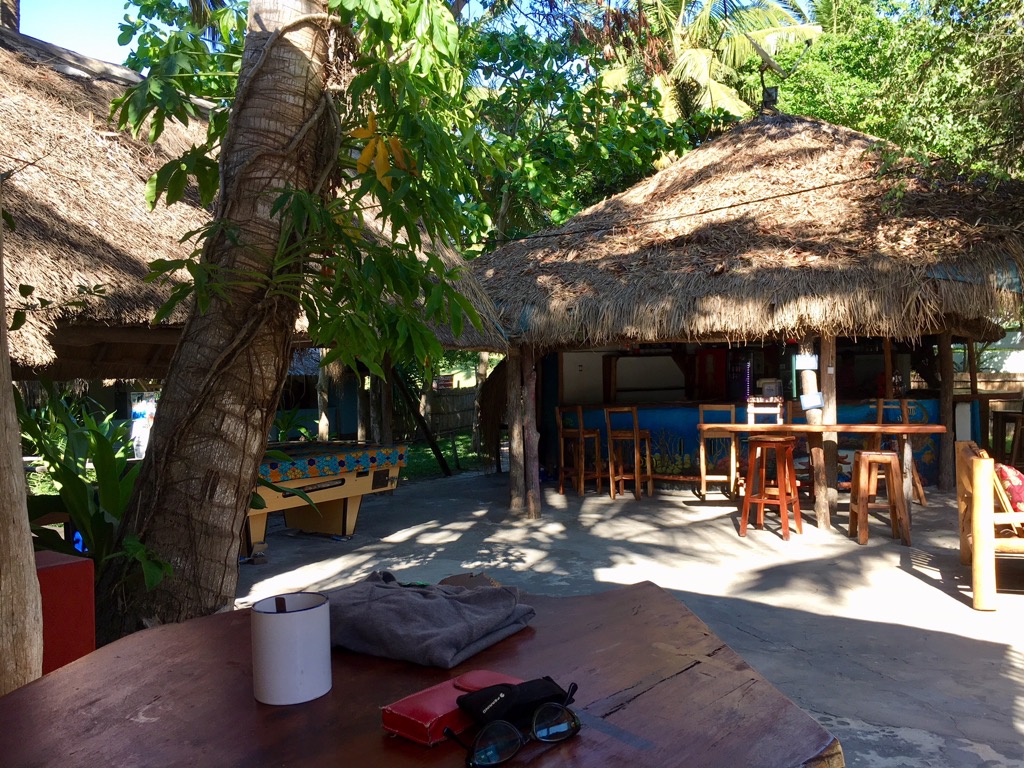 What to do in Vilanculos
The answer is quite simply a lot!
– Trips to the Bazaruto Islands
Day trips to the Islands of Bazaruto, Benguerra and Santa Carolina with good snorkeling, whale watching and nice walks along beautiful beaches and big sand  dunes! One full day trip costs all included 75-85$
– Whale Watching
With an extra 20$ you will be taken bu boat outside the reef to have the opportunity of seeing the whales roaming free often with their calves (June to September). Frequent sights are Humpback Whales and Orcas
– Walk on the Red Dunes
Some 20 minutes by car north of Vilanculos are two huge red sand dunes. You can go with your car or arrange a two-three hour trip for 20$/pp. This red dunes in front of the ocean have formed a small but fascinating canyon where you can walk surrounded by the sand. It is best to do the tour in the afternoon and after having explored the dunse sit back and relax waiting for the sunset which gives the dune a flaming red color!
– Buy crafts at Machilla Magic
Machilla Magic offers a wide range of unique handycrafts, created by local artists with sustainable resources. An opportunity to buy something beautiful and different from the usual souvenirs, and also to help the local community