Cape Maclear, Lake Malawi
A pristine location on Lake Malawi to be discovered
before it's too late!
Lake Malawi is huge, really huge: al 560km lenght and 70km width it is the third biggest lake in Africa, after Lake Victoria and Lake Tanganyka. It lays almost entirely in Malawi, with the exception of a portion belonging to Mozambique (where it is known as Lago Niassa) in its eastern part, and it borders with Tanzania to the north-east, where it is known as Lake Nyasa. It has an area of almost 30.000 kmq, almost the size if Belgium, as an example.
At its southernmost point before flowing into the Shire River, a tributary of the bigger Zambesi River, is the Cape Maclear Peninsula. At the northernmost point of this peninsula is the fisherman village of Cape Maclear, Lake Malawi as named by David Livingstone himself in 1859, also known as Chembe to the locals.
The village stretches along the shorelines for about 2 km, and it has a lazy, slow atmosphere, with women washing clothes and dishes on its fresh waters, kids running around, and dogs and ducks wandering around.
It has been a popular backpackers destination since many years and it is a place where you can relax for a few days before heading east to Lilongwe and Zambia or south-east to Mozambique.
How to Get Here
We came from Lilongwe with a Taxi because we were very tired by the 17hours bus ride from Livingstone to Lusaka, and then on to Lilongwe via the border with Zambia in Chipata. A really nice guy called Blessings (true!) took us here with his wife on a nice almost new Toyota Sienta, we were able to negotiate the ride for 90$ including several stops for taking pictures and their help to find some equipment we needed for the rest of the trip.
The trip was finally comfortable and lasted about three and a half hours including all the stops. Once in Cape Maclear, Lake Malawi we then discover that for the ride back to Lilongwe in taxi they charge 130$, so it was a good deal after all.
There are of course other cheaper options to get here, but it takes time and patience:
From Lilongwe bus station take a bus to Mangochi and ask the driver to get off at the junction for Monkey Bay.
Then take any transport (Minibus, known as Maloto here) to Monkey Bay (which is a nice shoreline village itself)
From Monkey bay, either take a taxi (20$) or a motorbike or a pickup (circa MK1500) to finally get here.
The whole ride should take 5-6 hours depending on "schedule" time and traffic congestions.
Where to stay
In Cape Maclear, Lake Malawi there are plenty of lodges along the shorelines. While many of them are all-inclusive and expensive, there are a few options for real backpackers like the Funky Cichlid Lodge, the Cape Maclear Ecolodge and The Tuckaway Lodge, which are in the range of 20/40 dollars for a room with shared bath. We found at the bottom end a really nice place called Malambe Camp which in our opinion is the best option. They have nice cozy huts for $10/12 single/double, tents for 5$ and dorms for 6$. the staff is very very helpful and friendly, toilets are clean and the bar gets lively at night but not enough to disturb your sleep if you are really tired 🙂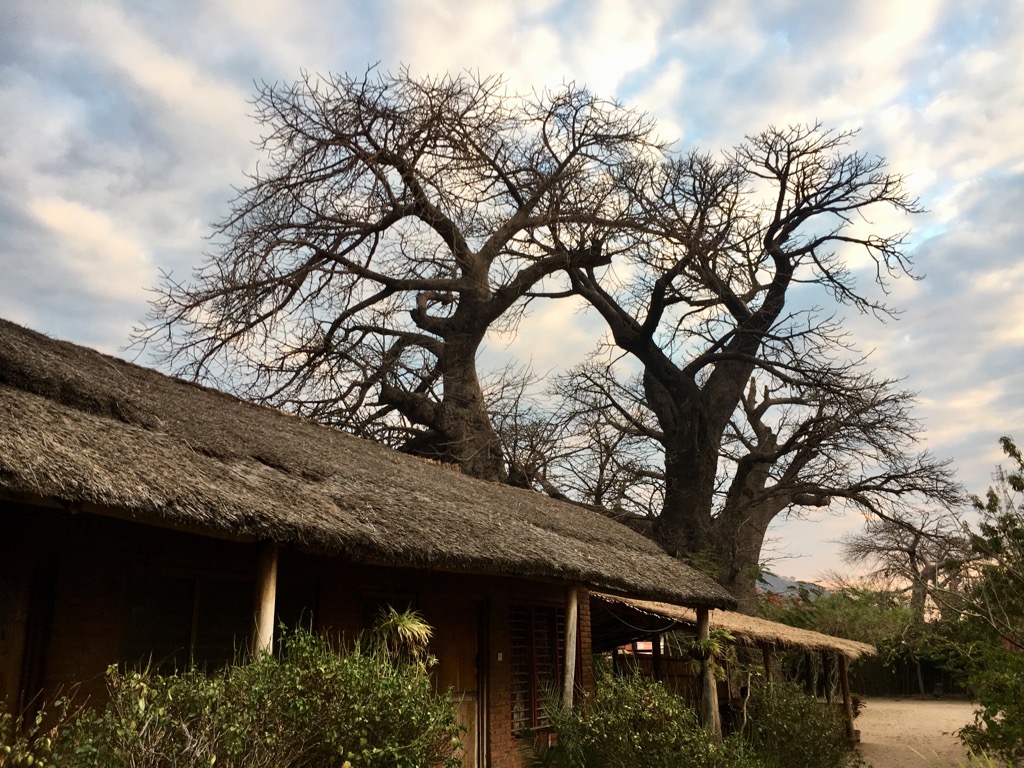 When to Go
Cape Maclear, Lake Malawi is an all year round destinations with maybe the exception of the months between December-February where the rainy season hits hard. During that period the locals say sometimes it is impossibile to go out because it just rains heavily all the time.
When we were here at the end of August the weather was fantastic, hot but dry during the day, cool and breezy at night with almost no mosquitos at all.
What to do
As long as you set foot on the really nice beach in Cape Maclear, Lake Malawi you will be bombarded with proposals of sales of tours, souvenirs, clothes etc… It is sometime tiresome but if you stand firm they will go away in the end. A better option is to ask Chico at the reception, he will find for you a reliable Captain (ours was called Symon) who will take you to a tour of the three small islands that lie in front of the Cape.
We were initially skeptical about the snorkeling proposal since we though that being a Lake this would be uninteresting, but we were absolutely wrong! Along the shorelines of the small islands of Dumwe and even more at Thumbi there is a fantastic variety of coloured fishes named Chiclids, which are protected by the Malawi National Park of which the all Cape Maclear peninsula is part of.
Other activities possible include a guide tour of the village, and hikes along the paths of the surrounding hills, but we could not honeslty remember the prices
The simple tour offers a day of sailing along the calm waters of the lake, lunch and snorkeling gear. It is a bit expensive at 150$ (per boat) though. You can get it for less if you or the Captain can find other people to share the boat. We were unable to and so we only could negotiate to include in the price the park fee entrance which is 10$/pp
If you decide not to do it, you can simply relax on the shore watching the kids play and all the folks doing their daily activity slowly and peacefully, which is in itself an experience. The kids will inevitably come forward and you will be surrounded by them, but they are just lovely and never aggressive.
A word of Advice on Heath Risk
Lake Malawi is known to be one of the places where there is an actual risk of contracting Schistosomiasis, also known as snail fever and bilharzia, which is a disease caused by parasitic flatworms called schistosomes. The disease is spread by contact with fresh water contaminated with the parasites.
If you go just snorkeling off the shore far from the people is, the risk is minimum, however. The disease is peferctly treatable though, taking a drug called Praziquantel, which is normally available through your lodge or in the local Clinic managed by an Irish lady.
No need to be paranoid, just be warned that the risk exists.
The Big Investment Project
Set aside these problems Cape Maclear has enormous touristic potential, and there is actually a big investment plan to build several hotels, a golf course, and even an airport nearby. We sincerely hope that this will not happen, as we feel it could ruin this pristine area. On the other hand it could be an opportunity to create development and jobs to the villagers. As always finding a good compromise between development and environment is difficult as big money often takes over these concerns. This is not the first time a similar announce was made from the government, and so far all the others have failed, so we will see if this time it will get done for real.