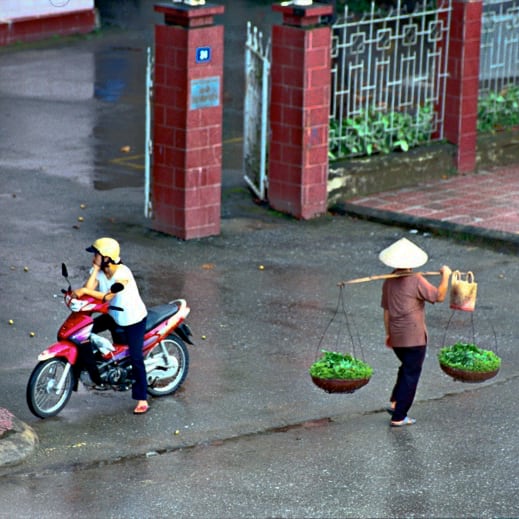 The city of Hanoi, the capital of Vietnam, is one of the experiences that a traveler should include in his list of unmissable places. Beautiful and ugly together, like all the great cities of the world, it embodies all the wonders and contradictions of the country and the contradictions of the modern world. Pollution and bicycles, street vendors and international market chains, modernity and ancient memories.
In Hanoi the contrasts are extreme and we think that this photograph encompasses them all.
One of the most incredible experiences in Hanoi is being able to cross a street: you might have to wait even an hour if you don't take the courage to throw yourself among hundreds of mopeds, bicycles, cars, buses and carts that cross relentlessly in every direction!
From December to May, approximately – our period between winter and spring – it is the dry season while from June to November – summer and autumn for us – it is the wet season, therefore considered low season if you want to think about prices. Don't be fooled though: Vietnam is a country, due to its geographical conformation, which has big differences between north and south.
In Hanoi, in the north of the country, temperatures are high and humidity is on the brink of tolerance!
the city must be lived walking aimlessly and offers districts of markets and artisans, crowded streets but also very green parks and temples. To do, if you have time, the experience at the Thang Long Water Puppet Theater – http://thanglongwaterpuppet.org/en/, a truly unique puppet theater show, no matter if a little touristy.
Despite an accident in the middle of the road that forced us to leave the trip in half, we think that Vietnam is a destination not to be missed that knows how to give nature and history, humanity and new horizons. In a next short article we will share more news on the more rural areas of the country, such as the Sapa valley.
If you want to read the diary of our trip this is the link https://www.aguaplano.org/en/vietnam/
If you want to browse the gallery of that trip this is the link  https://www.aguaplano.org/en/photos-of-vietnam/