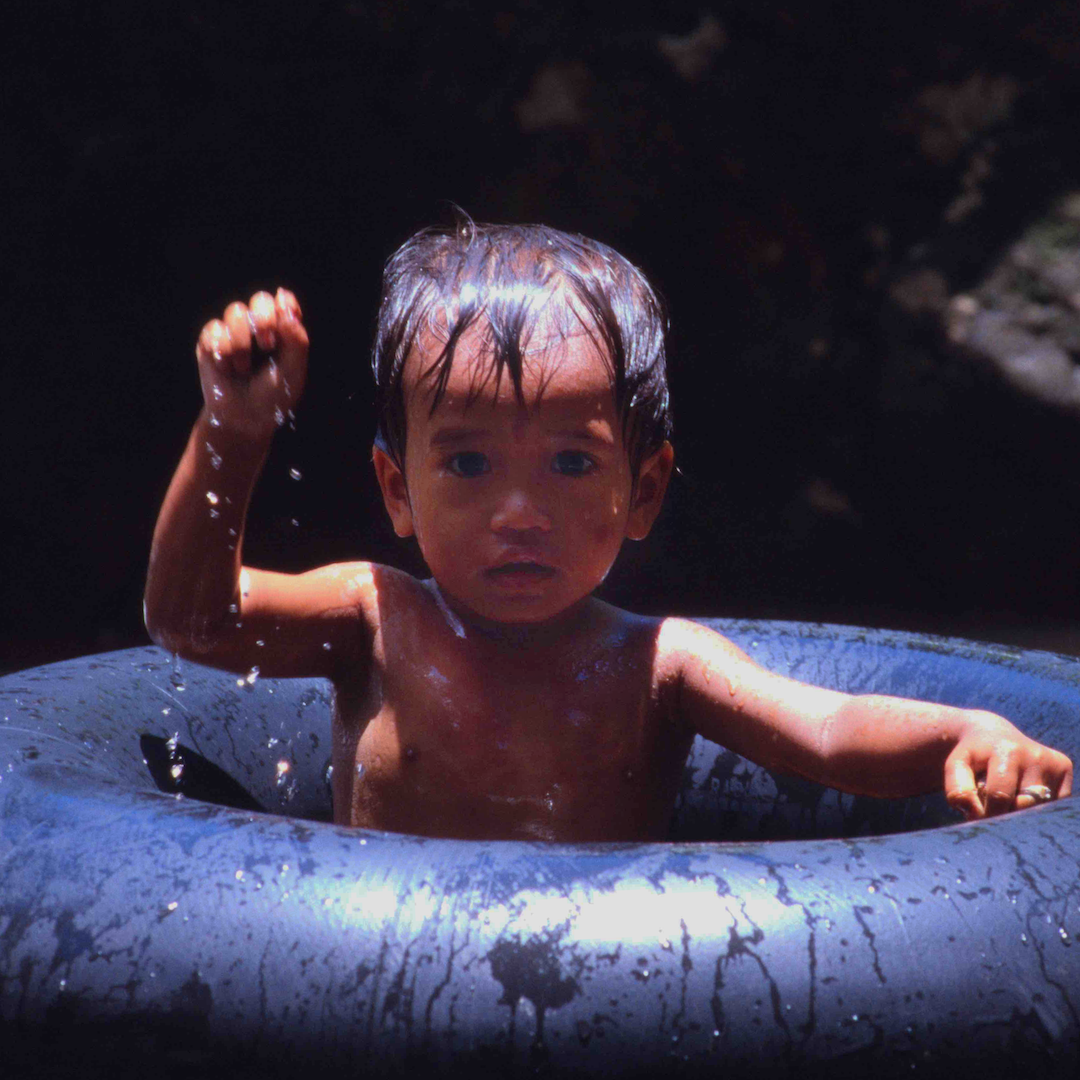 A Cambodian Child in Phnom Kulen Waterfalls
We took this picture of an adorable Cambodian child bathing in the riverbed beneath the Phnom Kulen Waterfalls, using an air chamber of an old tyre as a lifebelt
Opened to the public in 1999, Phnom Kulen National Park is located about 60 km from Siem Reap, and it can be reached in about 90 minutes.
The territory of the park is characterized by a plateau that stretches for about 30 km, with a maximum height of 487 meters s.l.m.
Millennial sculptures, thundering waterfalls and a symbolic Buddha statue make the Phnom Kulen National Park one of the most visited destinations in all of Cambodia. Travellers arrive by car along the narrow scenic road from Siem Reap, to admire the impressive statues, including the massive Buddha statue.
The Sacred Mountain
At the beginning of the ninth century, King Jayavamarn II (802-850) rebelled against the domination of the Javanese (Kingdom of Medang).
Having obtained independence, Jayavamarn II began a work of unification of the various kingdoms present at the time, creating what would later become one of the largest and most powerful empires of Southeast Asia: the Khmer Empire.
Jayavamarn II proclaimed himself  "divine monarch" (Devaraja), the earthly representation of Shiva.
Inspired by Mount Meru, home of Shiva and the center of the universe, Jayavarnman II built a temple complex at the top of Mount Kulen (still considered a sacred place).
Phnom Kulen Waterfalls
The Phnom Kulen National Park includes some waterfalls, the main one being some 20 meters high
This area is the ideal place for a refreshing swim surrounded by lush nature.
But there is also an interesting story about these waterfalls. History tells us that on its summit took place the religious ceremony that crowned Jayavarman II as the first King of the united kingdom of the Khmer.
Visiting it today we can then discover another wonder:  the refined bas-reliefs carved directly into the bed of the streams!
These bas-reliefs represents the Lingas people depicted in various activities.
There are all sorts of them and they all add up to several thousand!