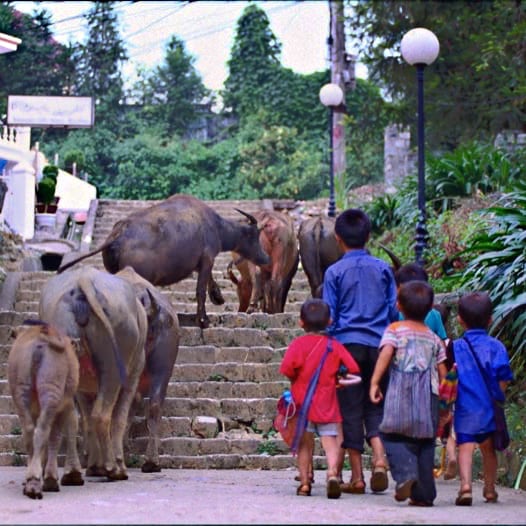 The village of Sapa – Vietnam, located north-west – almost on the border with China – is a small mountain village that in recent years has become one of the must-see stops on a trip to Vietnam.
We have reached Sapa directly from Hanoi with an excellent night train service with comfortable and cheap bunks and lit-lit cars: the advantage, in addition to the particular and recommendable experience, is to save a night in a guest house or hotel – depending on your budget – and above all, save a day of travel.
The village of Sapa, perched close to foggy hills, offers travelers the opportunity to walk in the forests, visit villages of the Hmong populations and breathtaking views of the terraced rice paddies that stretch as far as the eye can see in the valley. In a future post we will tell you more about the Hmong tribes.
What we are telling you now is our snapshot of Sapa town. In recent years, precisely because the village has become a destination for the tourist circuit in Vietnam, the results are naturally, as you can well imagine, both positive and negative.
Let's start with the negatives, but always read with our travelers' eyes: lots of accommodation, lots of restaurants and bars, street assaults by sellers – almost always women and children – of unmissable souvenirs. Many, apart from everything, really beautiful. Of course, for those of us who spend a few days there seems to be a distortion, but there is always something to think about what it means for the small local economy … and this is the positive outcome. Contradictions …
What is certain is that, after a first tour walking through the village, if you don't run away immediately for the traditional destinations offered in this area and you stay a little longer, just sitting on a street corner, you can stop with the car photographic, but above all with the mind and the heart, snapshots of a life and a time that can enrich us and make us reflect for a long time. Sit down, having nothing else to do, on the corner of a Sapa street. Even for hours …
If you want to read the diary of our trip this is the link https://www.aguaplano.org/en/vietnam/
If you want to browse the gallery of that trip this is the link  https://www.aguaplano.org/en/photos-of-vietnam/