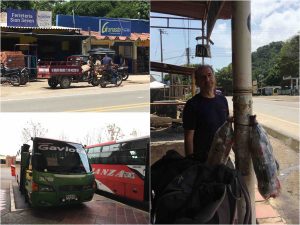 August 28-30, 2017 – to Cartagena
Coming back from the Guajira Peninsula we stop again in the hot and humid Riohacha. From here we go south to Palomino with the usual noisy and busted buses.
We drag ourselves and our backpacks up the hill to find the place we have booked to stay for the night (yes, we've picked the one as far away from the centre as possible on purpose) and we get there sweaty and tired as beasts of burden – bed!, bed please!). The next morning we have to pretend to be vets to cure a very sick dog puppy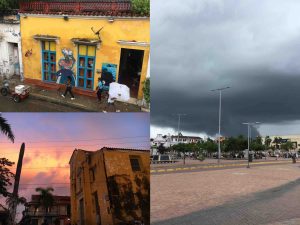 We gave him shots, care… the next day he looks better maybe he'll survive, we really hope so.
Ok time to go again, Bus , Walk, Bus, Walk, Small Bus, Long Walk… we are in Cartagena! This time the hostel is really ugly. But.. the Pope is arriving here in a few days so it's difficult to find a place to stay! (and the prices are almost double the usual)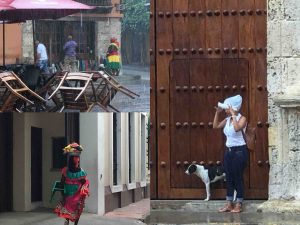 The next day we manage to find a better place then we spend the day strolling through the center Cartagena which is really nice, although a bit too fake for our taste. Then we spend an hour to get the dollars we need for the trip to San Blas Archipelago (San Blas is Panama so they want dollars and there is no ATM in all the Archipelago. So a word of advice: in Cartagena there is no way to get Dollars from ATMs, so either you bring it with you or as we did you have to cash in Pesos from the ATM and then go to the Bank of Colombia, queueing and change it there!
We spend the rest of the day drinking beer, watching street artists, having dinner in the Getsemani neighborhood (much better than the walled city, in our opinion)
Tomorrow we will have a very long tranfer to Necocli, the last town before the crossing of the bay to Capurganà, and then Panama!