Toward the end of a long  trip on the Amazon River, from Peru through Colombia to the mouth of the Amazon River, we reached Belem, on the Atlantic Ocean. Fron here we decide to go further East to meet the Ocean after a month spent on the river. Our goal was to reach Algodoal, a small fishing island which is still largely an incontaminated paradise who can give the traveller a unique experience of peace and true happiness.
We got there from Belem with a string of vehicles : taxi, bus, boat, horse cart, and then on foot the last 100 meters. The Ilha de Algodoal is a unique place with superb natural scenery, huge, immense sandy beaches, dense forest full of biodiversity, rivers to paddle around on caonoe, lonely relaxing walks. Immerse yourself in its simple nature and culture way off the beaten track. You won't regret it, we can assure you!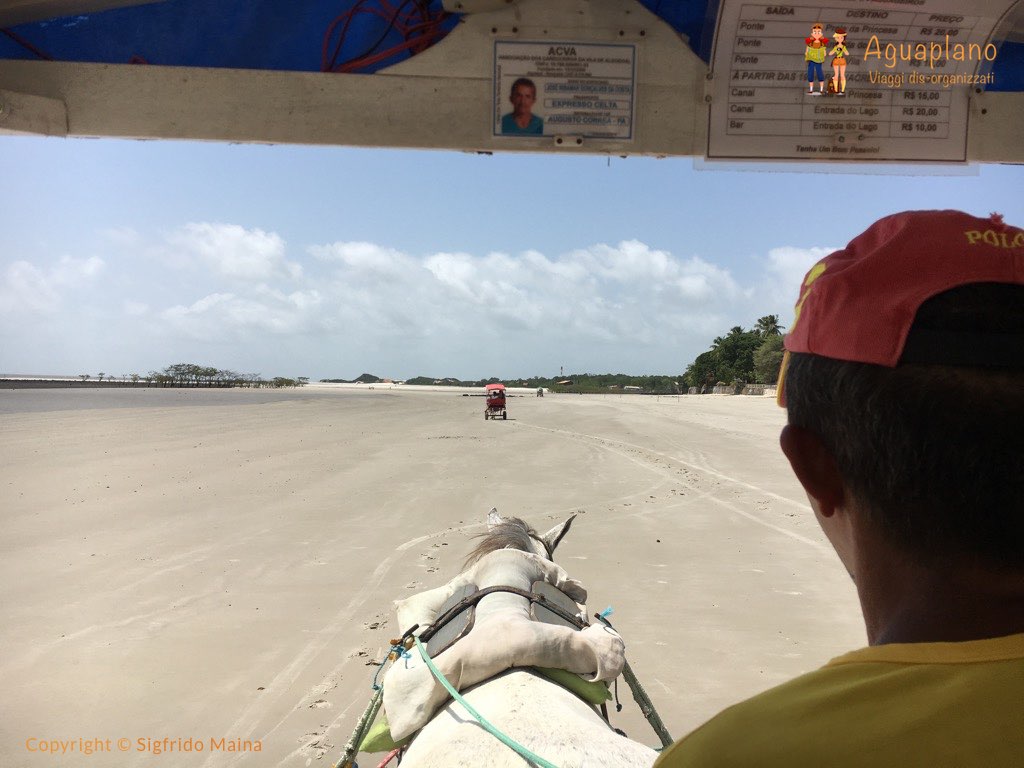 INFO
FROM/TO VIA BUS/BOAT
Belem – Marudà – About 4 hours by bus
Marudà – Algodoal – About 1 hour by boat
Algodoal – Guest House –  it depends…
INFO ON ALGODOAL www.feriasbrasil.com.br
Algodoal, also known as Ilha de Maiandeua, is a fishing island in the Parà region of Brazil. It lies just off the coast of the Atlantic Ocean near the big, bustling city of Belem.
Time seems to have stopped on this island. Life is very quiet, simple and traditional, and you can only get there by boat from the coast (1 hour). There are no cars or even motorcycles. The only way to move around is on foot or on little cute horse carts.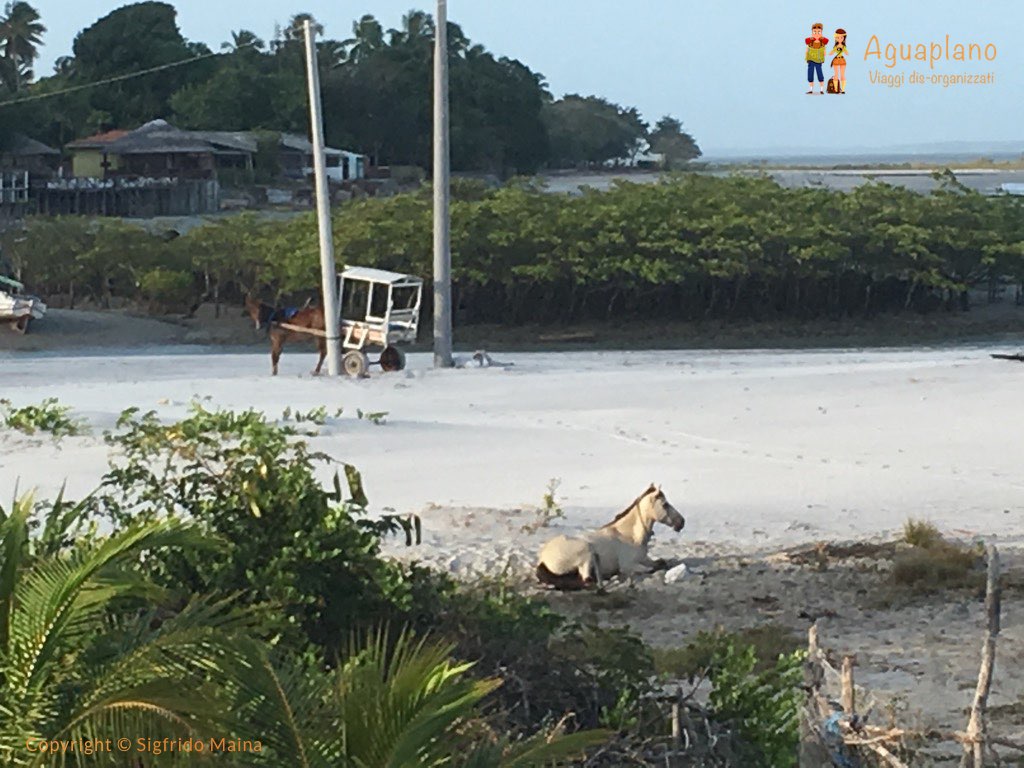 Algodoal is about 24 km2 wide and it is a Natural Preservation Area. The main village is called Algodoal as well, and then there are three more, very small: Fortalezinha, Camboinha et Mocoóca. The main beach is called Playa Princesa and along with the others (Crispim, Sino, Grande, Ipomanga e Romana) is a well known surf destination from december to march, so expect lots of parties and a little crowd of youngsters. If you go there like we did in low season (may-november), though, you will hardly find anyone on the beaches and you'll have a more pleasant and natural approach. The inhabitants lead a sleepy life, living on agriculture and fishing mainly and of course a little tourism. There are many hostal and bars and restaurants in the main village. In high season from december to march you will find also many open kiosks on the beaches, while in low season most of them are closed. On the other hand, walking almost alone in these immense beaches in front of the Atlantic Ocean is a remarkable experience!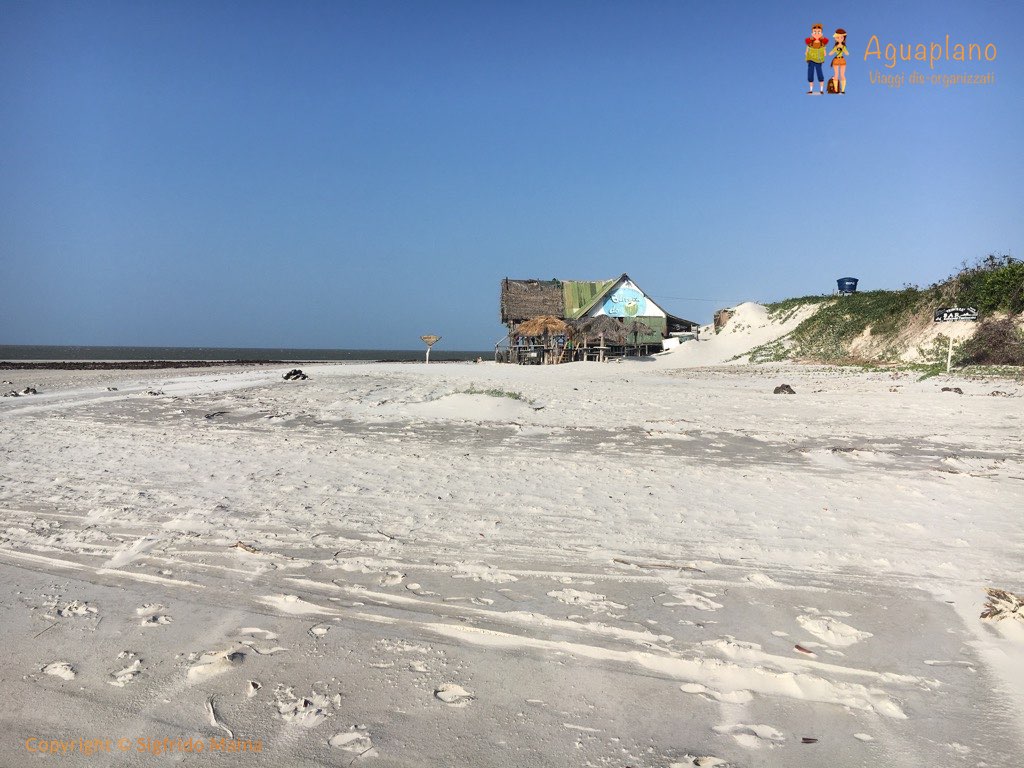 Where it is & how to get there
Ilha de Algodoal lies about 182 km from Belém. It can be reached by bus from the central terminal in Belem on the "rodovias" (highways) BR-316 and PA-127 until the Marudá harbour, from where boats leave for the Island. The Island has no airport, so you can olny get here by sea. If you are descending the Amazon River as we did, you arrive at Belem port from Santarem. Then take a taxi just outside the port exit to theBélem Bus Terminal – from there in three 1/2 / four hours you'll get to the small harbour of Marudà. From the harbour, boats sails often but there is not a fixed schedule, just head for the ticket office near the pier and wait for the first to leave. You should get in the boat within an hour or so. Once on the island you'll find a line of horse carts waiting for you to take you to your guesthouse, enjoy the Samba and the scenery while riding!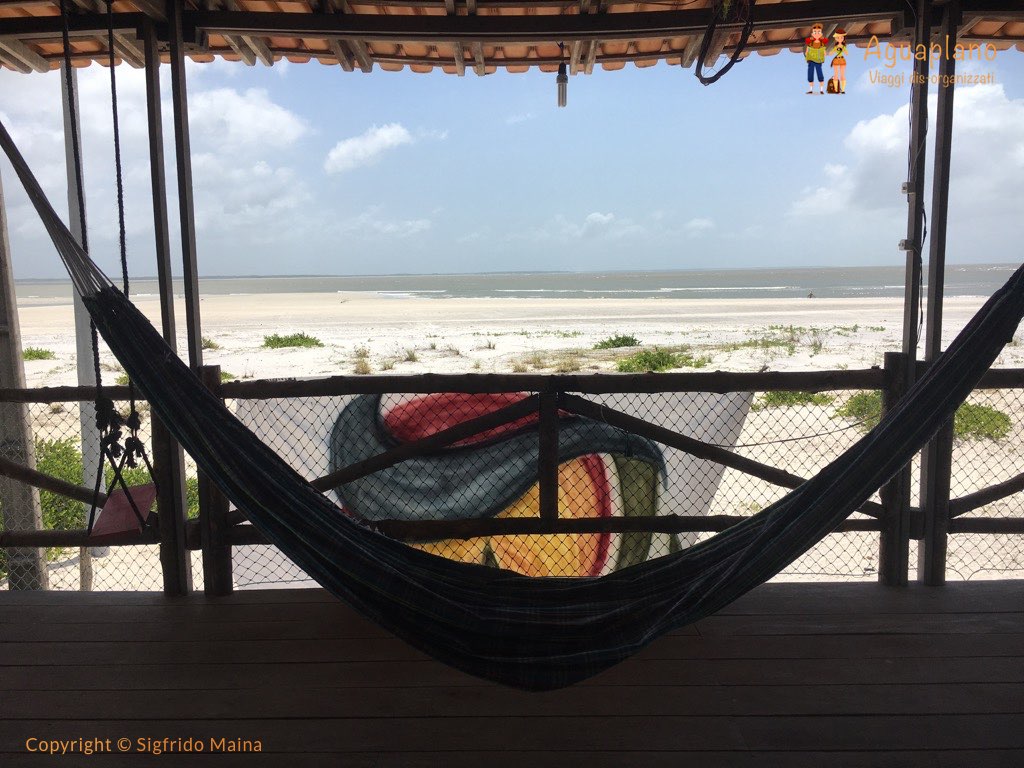 Places not to miss
Algodoal Village

Fortalezinha, Camboinha et Mocoóca

Lago da Princesa

Dunas De Algodoal

Forest and River inside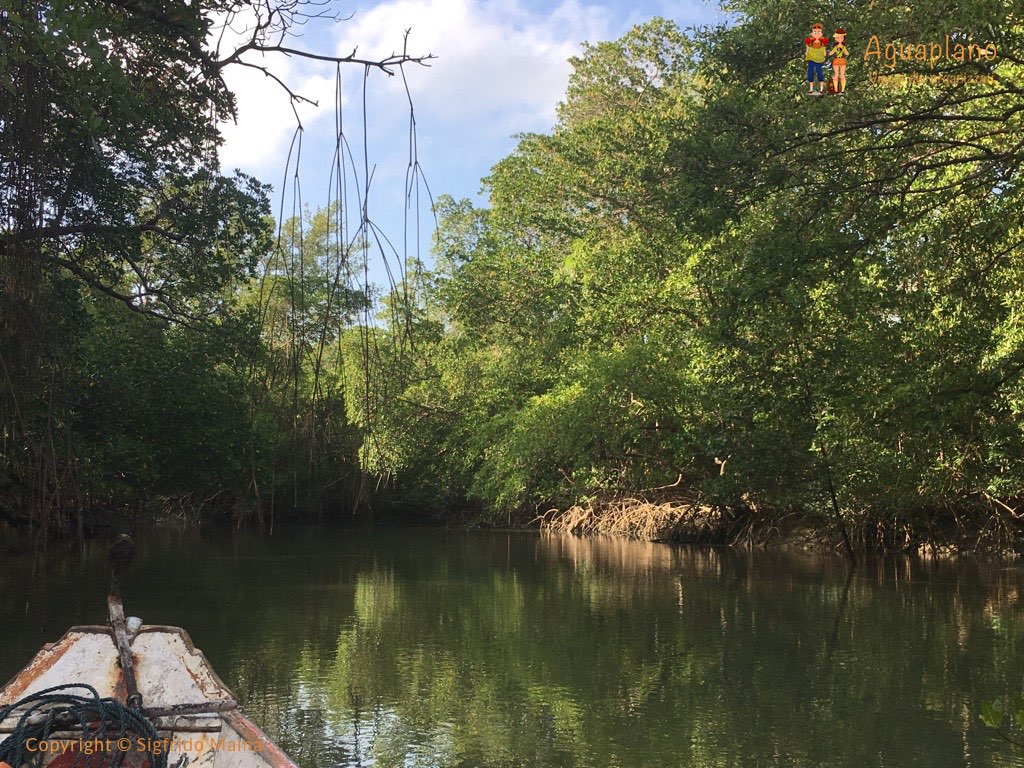 Algodoal offers very little or very much depending on your point of view. Despite the lack of major attractions, the Island has a peculiar coastline, huge beaches, rocky outspots and a surprisingly dense  forest in the center with creeks and rivers flowing in every direction.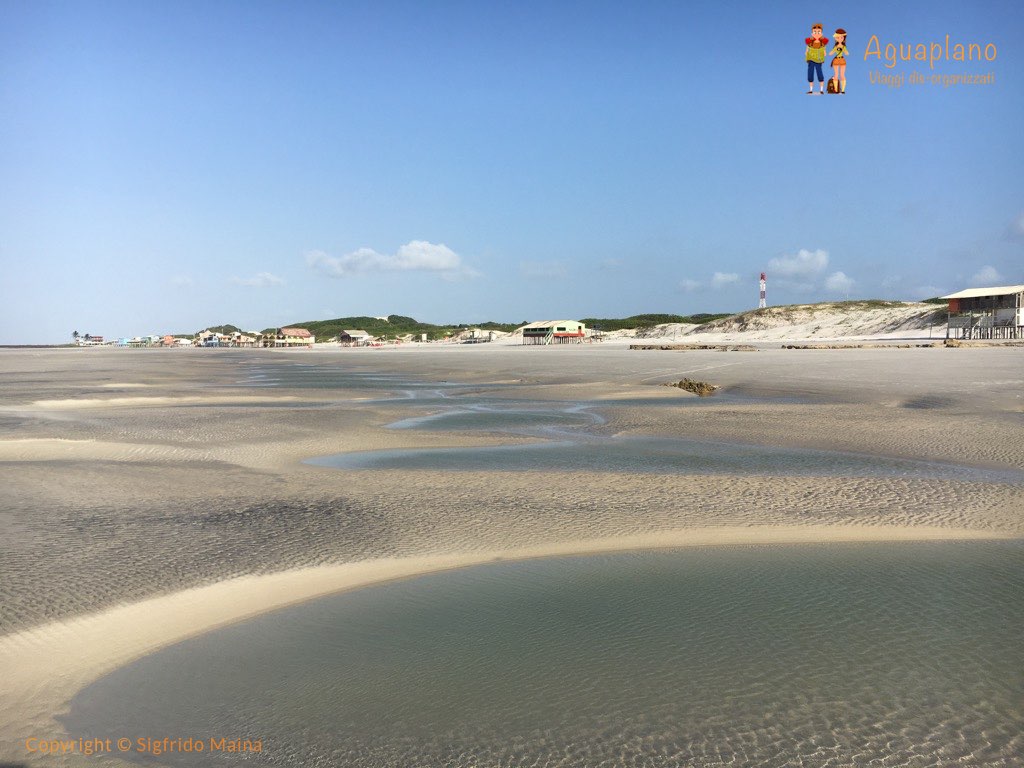 One of the main thing to do is simply wander by foot along the immense, solitary beaches enjoying the scenery: the tide makes his way through the sand forming fantastic pools of salted water and creeks flow from the center of the island meeting the sea in narrow channels which can be crossed by foot in low tide, while during high tide small canoes waits for passers-by to take them across. If you are there in high season you can enjoy the many bars along the beaches, while in low season you can just walk for mile without meeting anyone, except birds and the occasiona horse cart. The inside of the island, instead is a lush forest full of surprises. YOu can rent a canoe with or without the "driver" and wander for hours in a maze of beautiful natural canals, admiring the wildlife. Lots of birds for birdwatchers here!  There are also many easy treks to do on foot : From the north-east beach you can reach with a short walk the Lago da Princesa (Princess' Lake) where you can bathe in its fresh waters, in the middle of the Ocean!  In the village of Algodoal you can find some bars and small, simple restaurant, and grocery stores.  You can also rent a horse cart and do the periple of the island for a few reales. Watch out for the tide if you go walking around the island! It is not dangerous but you may find coming back from a walk that the small creek you crossed of foot in the morning has become bigger enough to be impassable! In that case just wait for a while: some guy will magically appear from somewhere to take you on the other side on his canoe for a small amount. Some notable walks are: from Algodoal, to Pedra Chorona and further on to Vila de Camboinha. From here you can reach Vila de Fortalezinha. Then you can come back on cart or canoe.
There are not so many  Hostal, B&B e Posadas to seelp and eat in Algodoal:  during low season there is no need to book, you will find a nice place to sty without problems, but in high season it will be advisable to book earlier. Prices range from 30 euros for a decent room with shared bathroom. Accomodation is fairly basic but if you get a room in one of the many stilt houses just outside the village you will be rewarded with some of the best sunsets you will ever see!  Here you will find some options on Air B&B and here is a link to a local tourism website: FériasBrasil.
To eat and drink there are a few unremarkable but decent places to go on the main village street. Nothing fancy but friendly and genuine. You can have dinner listening to live music or enjoy the sound of the waves in one of the bars on the beach.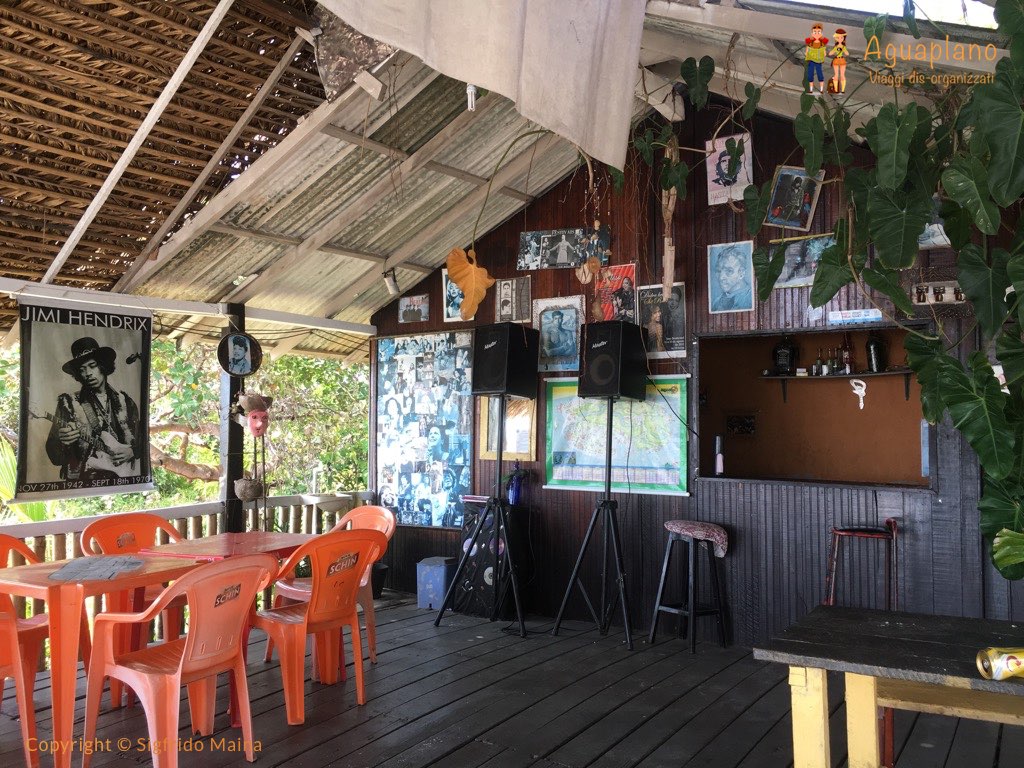 Easy —> Difficult

30%

30%

Cheap —> Expensive

30%

30%

How crowded?

20%

20%