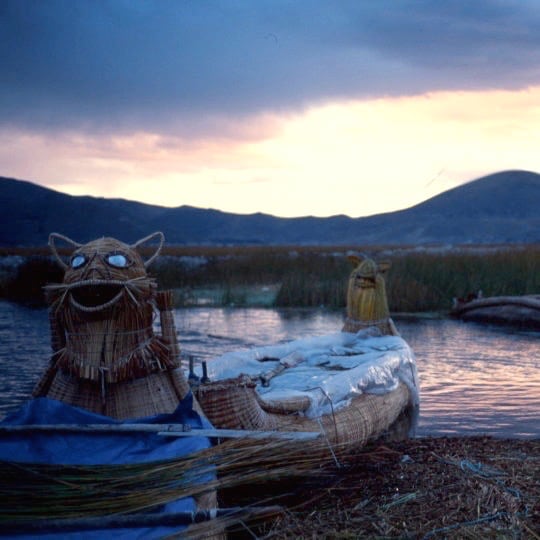 From the town of Puno, on the Peruvian side of Lake Titicaca, you can reach by boat the floating islands, home of the Uros, a pre-Inca population that invented a new land on the lake to protect themselves from attacks of the inhabitants the mainland.
The islands are built with thick layers of a type of cane that grows on the banks of the Titicaca, the totora, and are anchored at the bottom of the lake. This ingenious method allows Uros to be able to move entire islets, navigating like on a barge. The islands are small with two or three houses built on each.
Over the years the Uros population, which had a unique culture and language, naturally mixed thanks to trade with the inhabitants of the mainland. To date, in fact, even the Uros speak the Aymara language. We visited the islands in 2002 and we were fascinated by the special boats, always made of cane, that remind us of Viking ships.
The floating islands of the Uros still resist the transformations of time and even if they became mainly a tourist attraction we advise you not to miss it.
If you want to read the diary of our trip this is the link https://www.aguaplano.org/en/peru/
If you want to browse the gallery of that trip this is the link https://www.aguaplano.org/en/photos-from-bolivia-and-peru/